All those who wish to travel to the United States either for work, vacation, study, deputation or business reasons will have to obtain a required non-immigrant visa in order to enter the United States for temporary stay or an immigrant visa for permanent stay. There are different kinds of visa that are issued depending on the purpose of travel. It is important that the travelers clearly define the reason for their travel to the United States and apply for the correct type of visa. The different types are: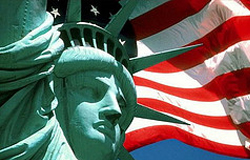 B-1/B-2 Visa: This visa is issued to those who are traveling to the United States for vacation or holiday. B-2 is issued for those who come to the U.S for medical treatment.
F-1 Visa: The F-1 visa is applicable to students who are enrolled into educational institutions and universities in the U.S. F-2 visa should be applied for dependents and spouses of F-1 holders in order to travel to the United States.
H-1B Visa: H-1B is issued to professionals and specialists who have obtained job offers from specialized companies in the U.S. Their spouses and dependents will have to get H-4 visa to enter the U.S
Similarly L visas are issued to expatriates who come to the U.S on intra-company transfers. O visas are issued to foreign nationals with specialized skills in Science, Arts, Business or Athletics. Cultural Exchange visitors can travel to the U.S with a Q visa. Performing athletes, entertainers and artists are issued P visa so as to travel to the US.
Each of these visa categories requires a specific set of documentation to be submitted in order for the visa to be processed. Tourist visa applicants who are traveling to the U.S to visit family or friends will have to submit an invitation letter, copy of sponsor's passport and visa along with their financial documents as proof that they will return to their country after their visit. Other tourists who are visiting just for tourism will have to submit a copy of their tickets, hotel accommodation confirmation and their itinerary. People who are going on business or work reasons have to document proof of their employment and approval forms from USCIS.
Apart from these, all applicants have to submit certain mandatory documents. They are:
Passport with minimum 6 months validity.
3 Photos – 50 mm * 50 mm with white background, no spectacles.
Financial Documents – Bank Account Statements, I.T papers.
Fee receipt showing payment made to set-up appointment at the Consulate.
It always helps to make use of a professional travel agency for visa purposes. They pay the required visa fee on our behalf and also clearly indicate the documents required and set up appointment dates on our behalf without any hassle. They also give detailed instructions as to how to answer in the visa interview at the Consulate and ensure that we are successful in obtaining the visa required for out travel to the United States.
Visit Emperor Traveline for more information on U.S Visa Services and for other countries of the world.