Everyone loves to go on a vacation, but packing for it is not an easy task. You will be tempted to pack a whole lot of things but there will be hardly any space to accommodate them all. If you dread packing for a holiday we will help you with a few tips, which will make it a little easier.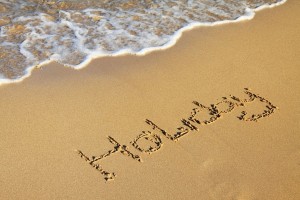 Make a packing list
You don't want to miss important stuff. So make a packing list. It will also help you save space. Before making a list ask yourself whether you need a certain item or not. You must add items on the list on priority basis. Ensure that you have covered all the items.
Coordinate your outfits by visualizing your trip
Try to visualise what all activities you will be indulging during your vacation, and then organise outfits accordingly. It is not that difficult. All you need is some time and patience. For instance, if you will be indulging in lot of sports activities, then you should pack your gear accordingly. If there is a dinner date, you will have to carry appropriate dress and accessories as well.
Try to mix and match the clothes. For instance, if you are packing black pants try to pack several matching tops. So you will be able to use the same pants with a number of tops. This will save you luggage space as well.
Don't Fold them, Roll Them!
While stacking clothes into a suitcase instead of folding them roll them instead. This will prevent the creases and will make room for more clothes.
 Use sunglass cases to keep electronic cables
To keep the wires like mobile phone chargers and earplugs use a sunglass case or a pencil case. To avoid tangling roll cables on a pencil or a hair brush.
Store jewellery in a pill container
Carry jewellery in a pill box to avoid them from getting lost. Pill cases will come in handy especially if you are carrying tiny pieces of jewellery like small pendants or earrings or cuff-links.
Under garments in a separate compartment
To avoid the hassle while unpacking keep your socks, handkerchiefs and undergarments in a separate compartment of the suitcase.
Carry your medicines along with prescriptions
In some countries certain drugs can be illegal so it is always better to carry the prescription copy of your medicines or else the officials might become suspicious.
Reduce by a third
We often pack more than what we want while going on a holiday. For instance, packing 4 pairs of jeans and then using only one. Never over pack.
Towel on top
When you get to a hotel after a tiring journey the first thing that you want to do is take a shower. Pack your towel last so you won't take much time searching for it in your suitcase. You can also carry a small towel in your shoulder bag in case if you feel like washing your face while on the go.
Wear your heavy items
Make sure you wear your heaviest jacket and boots. This will save space in your suitcase, and also save on baggage allowance.