Summer is here and most people are busy planning their vacation trips. But travelling can become a tedious task if you end up over packing. The best way to make the most out of your journey is to pack smart and travel light. Follow these tips.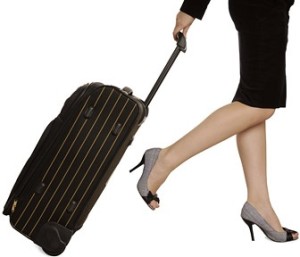 Plan ahead
Pack only those items you are 100 percent sure you will use. First, lay out the items on the bed and take a good look. For instance, you might have laid out three floral tops while you need only one. Planning ahead will help you not to over pack. Only if you see the entire outfits you will know where you are making mistakes.
Pack lightweight clothing
You should try to fit in as much as possible in one suitcase. But if you have too many bulky items this will not be possible. It is always better to choose thin clothing that won't take much space. For instance, instead of packing a heavy jeans and sweater opt for lightweight pants and pullovers. You can also pack lightweight silk scarves which double up as tops or sarongs which can be worn as skirts, and pure Pashmina shawl, which can be used as a blanket as well.
Choose fabrics carefully
It is better to choose wrinkle-resistant fabrics that are washable and dry quickly like nylon or silk. Try to avoid linen and cotton as they wrinkle easily.
Wear it on
Make sure to pack lightweight garments and wear all those heavy clothing.
Scale back on shoes
A mistake most people do is packing too many shoes and end up using only the most comfortable ones. Just pack one pair of heels and one pair of flats. Both can be used for pants or dress. Pack your shoes at the bottom of the luggage and make use of the empty spaces inside your shoes to fill small items like socks and undergarments.
Pack for compatibility
Selecting interchangeable and versatile pieces is the key to packing light. Opt for basic colours like white, black, khaki or brown, and then add tops in floral prints and asymmetrical designs. To add a chic touch to your outfit choose standout accessories. By mixing and matching you will be able to create new looks with a few items.
Do a double take
Convertible or expandable luggage is your best companion while travelling. During your return trip you will have lot more things to carry. You must have shopped souvenirs and gifts for your loved ones; you also must have shopped quite a few things for yourself. To make room for all these stuff you need expandable luggage.  Otherwise, you can pack extra bags, which you can use to carry your new items.
Make your carry-on count
Choose lightweight, sturdy luggage with collapsible shelves and built-in compartments for easy packing.
Take a vacation from your toiletries
While on the go why not try new products? You can leave behind your shampoo and conditioner or body lotion. Use the ones provided by hotels. It is always good to break the routine and try something new.  If your toiletries are indispensible you can always buy them once you arrive at your destination.