A happy family stay together, but the happiest family is one that tours and plays together and makes the most of it. It is the togetherness which binds the family together — strong and intact. But do the winters play spoilsport to your family tour and outdoor activities. Don't be upset and take it in your stride. Every setback has its positives, and therefore, don't let the season rob off the fun factor. Winter sports are meant for the whole family.  Here are some ideas that will make you a better player, of course, with your family on tour and especially, when it's snowing hard and heavy.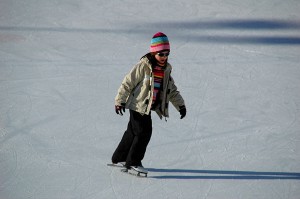 Planning:
Research and planning is the key. Ensure you go for a resort with a good ski school and nursery slope for the kids, but just enough to keep you in the mood too. Make sure you book early as possible as good ski schools are pretty much limited and get booked up early. Make sure you are in good shape before the holiday. Start working on your body's fitness levels and agility before the start of the holiday season. Remember to check if your required equipment is working just fine.
Out & About:
It is a must that kids should be offered plenty of sun protection on their face to protect themselves from the harmful effects of the sun's rays such as sun burn and UV goggles. You must check the rules on helmets; it is mandatory for children to wear helmets when playing or skidding on the icy slopes. You need to think about the different options you can come up to keep the kids engaged such as husky sledding or ice skating.
Just in Case:
Teach yourself and your kids ski etiquette and rules of conduct to stay away from unnecessary accidents and mishaps. It is recommended to invest in a winter sports travel insurance to protect your family, trip and equipments against any possible accidents and potential disasters. It's important for kids to get trained on how to cope with emergency or crisis situations, example just in case you get separated in a crowd. Having an EHIC for every member of your family, when travelling in Europe, comes as an advantage in case you require medical treatment.
Winters doesn't mean putting things in cold storage, especially family tours, sports and outdoor activities. Winters not only presents some unique challenges, but also every reason to travel outdoors and get going with the whole family. With the thermometer dropping, the festive spirit and fervour may well embrace the adventure in you!