What is cruising?
Planning for a cruise vacation is often one of the most challenging of tasks for those who haven't organized a travel, and it's even more difficult when they haven't traveled around a lot. A cruise liner is a ship which is used for enjoying stress free holidays, these voyages are also known as pleasure voyages. In a cruise vacation, the travel experience includes the voyage itself along with the entertainment and enjoyment of the amenities in the ship, and change in different sceneries often on a day-to-day basis. The prime purpose of cruising is not transportation but the experience of a wide variety of things it offers.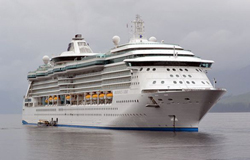 Types of cruises
You can never compare two cruising experiences because they are never the same. Cruise travel exposes you to very unique traveling experiences. Basically, there are seven major types of cruising and they are listed below:
• Solo Cruises
• Family Cruises
• Luxury Cruises (e.g. Golf cruises, Art Cruises, Themed Cruises, Romantic Cruises etc.)
• Senior Cruises
• Premium Cruises
• Adventure Cruises
• River Cruises
There are also 'nowhere cruises' that are available; these are mainly designed for the passengers to enjoy the experience of cruising and such ships will not stop at any ports.
Things to Consider before booking your Cruise holiday
It is very essential that you understand the whole concept of cruising and carefully select the type of vacation you need. All cruises offer basic amenities such as food, accommodation, on board entertainment, toiletries and transport and other additional amenities such as spa, excursions, drinks and other add on packs. All these options should be chosen by the traveler according to his / her needs. Answering the below questions can help you to choose the best cruise for your travel.
• Your budget for the entire trip
• With whom you are traveling (Family, friends, solo etc.)
• Which part of the world you want to cruise
• Choosing the apt time for cruising
• Do you want a casual relaxing cruise or an activity centered type?
• Are you prone to sea sickness?
• How long is your trip?
• Where you want to board your cruise? (Near home or abroad)
• What types of activities are you interested in? (Culinary, Art, Golf, adventure etc.)
• Do you want to dress up for dinner parties?
It is also important to book your cruise well in advance because you may be offered additional perks such as cabin upgrade, discounts in ticket prices, free transfers, choice of cabins and other special early booking offers. Last minute booking will restrict your options, where you have to adjust your vacation and timings, and maybe travel in cabins cancelled by others. So, plan your vacation well in advance to fully experience the pleasure and excitement of cruising.