Buddhism is the second largest religion in Malaysia, Kek Lok Si temple stands as the symbol of Chinese Buddhism situated on top of the hill at Air Itam near Penang Island in Malaysia. It is the largest Buddhist temple in Southeast Asia and celebrated as the temple of supreme bliss for several reasons.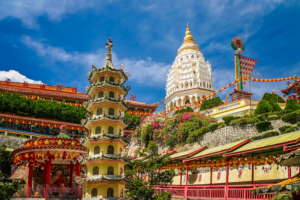 The temple was built in 1890 under the leadership of Below Lean, an immigrant Chinese Buddhist. Since its opening in 1905, the architecture is known for its magnificent monasteries, serene prayer halls, landscaped garden, beautiful carvings, and sculptures. Being the symbol of Chinese Buddhism, this temple harmonizes the Chinese culture and Buddhist teachings in every mural of the temple.
Various parts of the temple:
– The ground area comprises the hill entrance, food/drink offerings and a holy turtle pond. According to Chinese traditions, the turtle stands for strength, longevity and endurance. It is believed that freeing a turtle signifies the act of spiritual liberation, and hence the name "Liberation pond".
– The mid area, the most important attraction of this temple, houses the pagoda and the pavilion. The 7-storey Pogada of Rama VI features 10,000 statues of Buddha that blend in its design the essence Mahayana and Theravada Buddhism with the Chinese octagonal base topped by a Burmese crown. The pavilion sites the statues of four kings: Kwang Mu, Tou Wen, Ch'i Kuo and Tseg Chang (Guardians from four directions).
– The apex area hosts the purpose of construction of this temple, the statue of Goddess of Mercy inspired from the temple at Pitt Street, Penang.
During the Chinese New year, the temple is decorated with numerous lantern hangings that offer a dazzling golden glow to the temple. These lights undoubtedly attract visitors to step into the temple and begin their celebrations.
Entry to the temple is free, except for a small fee collected for entering into the pagoda and the Sky Lift. The temple is open to the public between 7 am and 5:30 pm every day.