The moment you think of Kanyakumari, popular tourist destinations such as Vivekananda Rock Memorial, the exotic Kanyakumari Beach, Thiruvalluvar Statue and Gandhi Memorial would pop up on your mind in a flash. Interestingly, Kanyakumari has a good bit of history: that, if one wishes to understand should visit the Padmanabhapuram Palace, once the hotbed of the erstwhile rulers of Travancore. Situated in Padmanabhapuram of Kanyakumari District, formerly the capital city of the Kingdom of Travancore, separated by 64kms from Thiruvananthapuram and 20 km from Nagercoil, the Padmanabhapuram Palace was built in 1601 AD by a ruler called Iravi Varma Kulasekhara Perumal, who bestowed the entire stately structure to his family deity.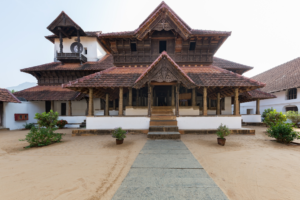 The palace was later renovated in 1750. Once the capital of Travancore was shifted, the palace was stripped of its original charm and recognition. Built on a sprawling landscape, the palace, which houses a palatial complex, upholds the traditional culture and values of Kerala architecture.
One of the most beautiful historical monuments out of the many palaces belonging to the royal family, the Padmanabhapuram Palace is a quaint palace marked by serenity and simplicity. This palace, now a major tourist attraction, has several divisions: the Mantrasala, or the King's Council Chamber, where the king used to hold official and personal consultations and meetings with his ministers. Decorated with ritzy mica windows and lavish interiors, the Mantrasala is a classic example of the Kerala style of architecture.
The Thai Kottaram, or the Queen Mother's palace, was built around the mid of 16th century. This structure is supported by four massive pillars. In addition to these divisions, you can find a Central building, Nataksala (or Hall of Performance), Clock Tower, Thekee Kottaram (or Southern Palace) and a Big Hall. The palace also possesses several murals belonging to the 17th and 18th centuries.
Interestingly, tourists can get to see royal chairs made of Chinese carvings, teak carved ceilings, ancient rosewood, musical bow in mahogany and many more. Step into the King's bedroom, and you won't be disappointed by the sight of mural paintings, pictures of Lord Krishna, medicinal bed and a magnificent hall. The royal splendour of Travancore is sure to tickle your fancy. The palace, though located in Kanyakumari, comes under the administration of the Kerala Government. Nagercoil (Tamilnadu), which is about 16 km from Kanyakumari, is the nearest railway station. The nearest airport is the Trivandrum International Airport.