First, let's not mix Dev Deepawali up with Diwali, despite the fact that both have lights or Deepa as the central theme in their rituals. The holy city of Varanasi plays host to Dev Deepawali or Dev Diwali every year, celebrated after 15 days of Deepawali. It is observed as a mark of Lord Shiva's triumph over the mystic demon Tripurasura. So, this festival also goes by the name of Tripurotsav and falls every year on Kartik Purnima (the auspicious full moon day according to the Hindu beliefs).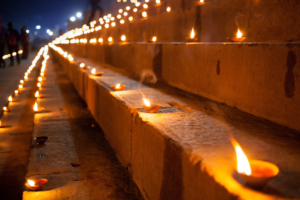 This auspicious day is swarmed by devotees turning up in large numbers to take a dip in the holy river of Ganga, also known as 'kartik snan'. Prayers to Goddess Ganga are performed, flowers offered followed by the lightning of diyas or clay lamps known as 'Deepdaan' to the 'Ganga Ma' or 'Mother Ganges' in the shades of evening. As the sun descends at the Varanasi ghats glittering diyas galore in every single step on the stairs leading to the river's edge. In fact, every time in the city of Varanasi is filled with brightly lit lamps, adding to the festive atmosphere of the city.
Glowing diyas and vivid colours in every corner of the 'cultural capital of India' manifest a sense of joy, divinity and awe. It is widely believed by the Hindus that Gods come down to Varanasi for bathing in the Ganga, something that makes this festival quite unique. Once you are in the Varanasi ghats in the evening, you shouldn't miss out on the divine 'Ganga aarti' that takes place on the embankments of Ganga, amidst the sparkling waters and incessantly ringing bells – a truly breathtaking spectacle! Hindu pilgrims, tourists and travellers gather in large numbers to worship Ganga Ma, whilst also experience the spiritual bliss of the festival of lights.
Dev Diwali, religious festivities apart, is also an occasion when Varanasi goes into a patriotic mode and remembers all its martyrs by laying a wreath at the Amar Jawan Jyoti on the Dashashwamedh Ghat, the main ghat in the city. The event concludes with a closing ceremony conducted by the Indian armed forces followed by the conferring of the Bhagirath Shourya Samman. Also, patriotic songs, bhajans and hymns are performed on this occasion.