The Temple of Buddha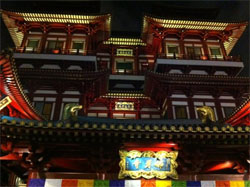 Though it is only six years old it looks like a temple from an earlier age. The temple is situated in the south bridge road of china town district. Said to have a tooth relic from Siddhartha Gautama, it has the architectural styles of the Tang Dynasty. Vesak day is the best time to visit this temple of Buddha, which usually falls in May. It is interesting and beautiful to watch the inside and outside of the temple.
SuperTree Grove of Gardens by the Bay
Though it does cost visit the areas inside the Bay, the super-tree grove is absolutely free. Its image is now the Icon of the Marine Bay area. The Super-tree grove is about twenty five to fifty metres in height. These vase type structures are not only are a visual treat, but one will also get awed about its function. The instruments fitted in these super-tree groves help in the photosynthesis process of plants. The sound and light shows are the best to watch during night time.
Bukit Batok Town Park
Situated in Singapore