Kerala, also popularly referred to as "God's Own Country" is a paradise on Earth with its lush and dense forests, sprawling greenery, mesmerizing beaches, undulating hills, enchanting woods and the pristine backwaters. Nestled between the Western Ghats and the Arabian Sea, Kerala is a destination of a lifetime! The small strip of land enchants every visitor who sets foot on the land with its diverse cultural beliefs and practices. Tourism in Kerala has gained tremendous popularity these days especially due to the endless natural beauty of its backwaters. A trip to Kerala will be complete only with a trip on the houseboat along the backwaters!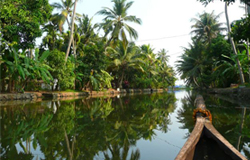 The best way to explore and experience the enthralling backwaters is by hiring a houseboat. The backwaters are lined with diverse vegetation, animals, plantation and different types of houses that add more charm and beauty to the entire trip. There are several travel agencies which offer comprehensive Kerala backwater tour packages to the various backwater resorts in Kerala. The resorts will send their houseboats to pick up their guests from nearby towns and cities. You can choose either to spend the entire trip on the houseboat or stay at the resort and take small day trips on the houseboat.
The most popular amongst the backwater destinations are the Allepey, Kochi, Kumarakom, Kozhikode and Trivandrum backwaters. Allepey or the Alappuzha backwaters are popularly known as the "Venice of the East". The magnificent green waters, boat cruises and the snake boat races are the popular attractions in Allepey. The Kochi backwaters which are referred to as the "Queen of the Arabian Sea" is dotted with several quaint islands. The major points of interest on these backwaters are the Kochi Fort, Hill Palace, Dutch Palace and the Bolghatty Palace. Kumarakom is a charming village nestled on the Vembanad Lake, situated about 16 kilometers from the town of Kottayam. The backwaters are dotted with beautiful white lilies and dense mangrove vegetation, which are a perfect visual treat for everyone's eyes. Vacationers can also indulge in fishing or boat rides.
The city of Trivandrum is the capital of Kerala which offers a staggering natural view of enchanting lagoons and pristine water lakes. The ride through the backwaters is dotted with several major attractions such as Museum Complex, Neyyar Dam, beaches and the Aakulam boat club. The Kozhikode backwaters are a rare visual treat as they are plugged with some of the most beautiful rivers, wide canals and alluring small lakes. The Pazhassirajah Museum, Kappad beach and the Art gallery are the important places of interest in the area. With such numerous choices, Kerala truly offers the best holiday getaway for the entire family, away from all the noise and pollution! Visit the Kerala backwaters to enjoy the scenic and serene beauty of the fascinating backwaters!