Popularly known as "God's Own Country", Kerala is truly a destination of a lifetime. It is the ideal location for relaxation, culture and adventure as it offers a diverse range of activities to do and things to see for people with varied tastes and likes. There are numerous fascinating aspects in Kerala and that is the reason why National Geographic Traveller included Kerala as one in it's Paradise Found list! Kerala is nestled between the expansive Arabian Sea in the west and the towering Western Ghats in the east which enables it to sport a unique equable climate all year round! This has been the most alluring factor that has made more and more tourists visit this beautiful place!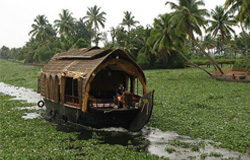 Kerala has varied unique things to offer that attract visitors with diverse tastes to come and experience it. There are several tour package that can be designed to suit the interests of different people. Kerala has a beautiful long shoreline with serene and pristine beaches. There are also beautiful and luxurious house boats on which you can enjoy the calm backwaters. Kerala is also known as the Venice of the East which makes it a perfect romantic getawat. All this can be combined as honeymoon package for newly weds to enjoy their honeymoon, especially if they are interested in water sports and like to take strolls on the beaches.
For people who are interested in wildlife photography, Kerala is a great place to be to witness some of the finest species of animals and birds. It features lush hill stations, exclusive flora, fauna and exotic wildlife which makes it a perfect spot for photography enthusiasts. Whether you are interested in wildlife or even just nature photography, Kerala has some unique shots to offer that will truly be a memorable photographic experience. People with similar interest can join together to go on a photography tour to Kerala to capture some alluring shots of Kerala's natural beauty and wildlife.
Kerala also features a rich cultural heritage and history which is depicted through magnificent temples, monuments, art forms and festivals. It is also famous for relaxing Ayurvedic massages and exotic cuisine. This is a perfect place for people interested in culture and heritage. Numerous foreign travelers visit Kerala as it is a melting pot of rich culture and heritage. This will also be a great family tour as younger children can be educated about the bountiful culture and heritage of the country.
The sprawling plantations, lush hill stations, serene beaches, enchanting art and culture, enthralling beauty of nature and wildlife and the splendid climate make Kerala the go to spot for great holidays! Whether you are looking for a perfect romantic getaway or a great place for family to be together, Kerala is the idyllic holiday spot that offers numerous tours for everyone to enjoy!