Ladakh, the mesmerizing heaven on earth, is at the Indus Valley at a very high altitude of the Himalayan ranges. What makes this cold, arid, and barren, desert, an epitome of unfathomable beauty is the scenic silence of nature with large snow capped mountains, glaciers, lakes, streams, strips of lush greenery, and unspoiled rich cultural heritage. However, this most wanted magical place on earth experiences scorching heat in summers and freezing cold in winters. To manage these drastic climatic changes, you must be aware of the weather, the best season to reach Ladakh, essentials to carry with and so on. This article on travel tips on Ladakh will guide you for an unforgettable adventure journey to Ladakh.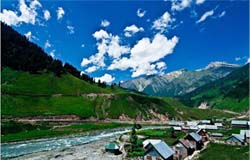 Weather and Tips
Due to the extreme chill climate during winter, with temperatures falling below -20 °C, Ladakh is closed to visitors in the months of November to February. Summers experience scorching heat with colder nights. As a rain shadow region, Ladakh receives an annual rainfall of 6".
In summers, you can carry cotton wear for the daytime and trekking activities; still one needs warmer clothing during the night.
The best time to visit Ladakh is the monsoon season from June to September, as the area receives sparse rainfall. You can enjoy a warm climate, occasional showers, and chill winds. Trekking shoes, extra sandals, wind sheets, rain coats are essential.

Altitude and Precautions
As Ladakh is situated at a very high altitude of 3000 m above mean sea level, altitude sickness due to low oxygen level is most common. Some symptoms include headache, nausea, irregular breathing, fatigue, etc. To overcome this, some basic precautions to follow are:
• Drinking warm water at regular intervals
• Adequate rest for first two days
• While trekking, do not exert too mush strain on yourself
• Spend little time at high altitude passes
• Within one or two days, your body will get used to low oxygen and later you can spend your time with lots of ease.
Do not miss the activities
Trekking at Ladakh's glaciers is the most adventurous and exciting activity in the whole of the world. As the trekking season starts from June, one can plan the visit during this period. Those not keen on long trekking can opt for short treks and visit monuments and monasteries. Adequate warm water and woolen clothing is essential even during trekking.
Mountaineering in the accessible peaks is another great activity that adventure lovers would enjoy. However, foreigners will need permission from the Indian Mountaineering Foundation.
Your adventure journey to this remote and most wanted place is incomplete without experiencing river rafting at the deep canyon and roaring white waters of Indus and Zanskar. Those experiencing river rafting for the first time can choose the stretch from Spituk to Karu. A guide's help is always advisable.
Chief attractions at Ladakh
Buddhist monasteries, Leh palace, Hall of Fame, Palaces of Shey and Sto, Museum, and Shanti stupa are not to be missed out.
Dos and Don'ts
• Do not use plastic bags.
• Never litter waste and dispose them effectively by burning or burying.
• Do not photograph the local nomads without permission.
• In national parks, never try to disturb the wild life.
• Always carry a water bottle.
• Try to book tickets and accommodation in advance.