All newly weds and married to be are constantly trying to think of a perfect honeymoon destination to spend their first cherished moments with their loved ones! They do numerous researches online and check with friends and family to help them decide. The one place that is sure to be suggested by everyone will definitely be Mauritius! Mauritius is an idyllic spot for newly married couples as it completely enthralls you with romance in the air! Pristine white sandy beaches, lovely blue skies and sparkling clear blue seas make Mauritius a lover's paradise on Earth!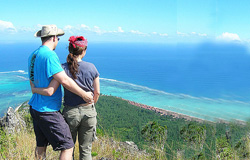 There are several honeymoon tour packages that are offered which enable you to experience all the Mauritius has to offer in the company of your loved one. The honeymoon tours are usually for 7 days and 6 nights and covers North Mauritius, Port Louis and South Mauritius. There are numerous activities that the honeymooners can engage themselves in to get a feel and taste of the natural beauty of Mauritius. The highlights include :
For people who enjoy the beauty of the underwater world, Mauritius is the best place to be to experience scuba diving and snorkeling! The couple can soak in the beauty of the vibrant flora and fauna and explore the amazing magnificence of the underwater world.
The honeymooners can take a romantic cruise into the crystal clear waters of Mauritius and engage in dolphin watching hand in hand. This will truly be a great romantic evening in your loved one's arms while watching the friendly dolphins in close quarters.
If the newly weds are even more adventurous, paragliding, sky-diving and bungee jumping are all perfect activities to enjoy together while they are in Mauritius.
A great way to see Mauritius and enjoy it's natural beauty is to go on a Quad biking safari. This is the best way to experience Mauritius' wonderful landscapes.
The honeymooners can simple just taking relaxing strolls on the beautiful beaches together or wine and dine romantically under a candle light on the beaches of Mauritius and enjoy each other's company! They can also indulge in a soothing and luxurious couple's spa that is exclusively arranged for the honeymooners.
They can also visit the gorgeous botanical gardens which span over 60 hectares of land and soak in the wonders of nature.
With such varied things to do and explore, Mauritius is truly the perfect romantic getaway for honeymooners. Honeymoon is a very special time and one that will linger in everyone's mind for a long time. The honeymoon packages to Mauritius cover all aspects of the honeymooner's travel and thus they can simple enjoy their time together without having to worry about anything. A honeymoon in Mauritius will truly be the most cherished and vibrant moment of a couple's life!