Looking for an exotic honeymoon destination for that perfect romantic getaway? Spend the most awaited holiday of your life lavishly by choosing the destination of your choice. We list out some of the most romantic destinations for honeymoon. Make your pick.
Whimsical Fiji Islands
This is the Eden of private beaches. Include this paradise on earth in your honeymoon tour package and celebrate your love. As you explore the sky blue waters and the dark-leaved jungles let love wrap you around.
Things to do: You can sunbathe on the beaches, swim with your love across the infinity pools, indulge in water sports or enjoy a couple spa. There are many luxury villas on the island and many fine dining options.
When to Visit: The best time to visit would be from July to September. But the islands invite tourists all year round.
Outlandish Greece
Greece is indeed a romantic destination and is part of most honeymoon tour packages. Sandy beaches, clear waters, pleasant climate and romantic resorts make Greece a perfect honeymoon getaway.
Things to do: Impressive landscape offers a lot of sightseeing possibilities. You can walk hand in hand on the sandy beaches, go diving in the crystal clear waters, and dine at the romantic restaurants.
When to Visit: Mid-April to mid-June & September to mid-October are the best time to visit Greece.
The sands of Seychelles delights
Seychelles is a perfect romantic getaway. Its exotic, rich and secluded sandy beaches are just what couples long for when they book a honeymoon tour package to Seychelles. What makes it magical is the solitude of the destination.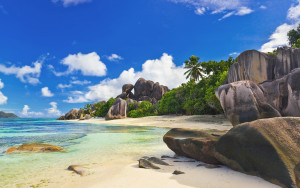 Things to do: You can enjoy water sports, take a walk through the virgin rainforests and enjoy an unforgettable stay at the comfortable resorts on the islands.
When to Visit: You can visit Seychelles all year round.
Wild Kenya
If you love adventure, Kenya is the destination for your honeymoon.
Things to do: For wildlife enthusiasts Kenya is among the best adventurously romantic destination. As you witness the wildlife walking all around you, you can dine with your love under the trees. You can also enjoy a hot air balloon ride over Masai Mara with your love and enjoy the spectacular views.
When to Visit: From July to September is the best time to visit Kenya.
Royal Romance in Morocco
For a honeymoon in the deserts, you must head to Morocco.
Things to do: The spices, colours and antiques of Morocco add to its charm. The medina is a fantasy world. You can enjoy the sunset and some of the best cuisines here with your love. Gazing at the star-filled sky as your ceiling you can sleep in a lodge in the middle of the desert.
When to go: April to May & September to October
An Evening in France
France offers a lot of sightseeing options and fine dining romantic restaurants.
Things to do: Get some fabulous pictures clicked against the backdrop of Eiffel tower. In your honeymoon tour package include sightseeing at the Rhone-Alpes region or sail across Seine.
When to Visit: Except July-August, you can visit France all year round.