1. The majestic Masjid (mosque) stands in the middle of the Arabian Sea, and can be reached walking through a narrow path that leads all the way to the mosque.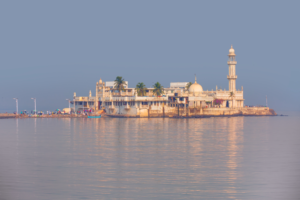 2. The Mosque was constructed in reverence and memory of the Muslim Sufi Saint Haji Ali, who was instrumental in the propagation of Islamic Sufi principles of love, peace and tolerance cutting across people of various faiths, castes and languages.
3. The Mosque that is set at 500 yards into the Arabian Sea is accessible only in low tide. The Haji Ali Dhargah (mausoleum) is situated offshore, facing opposite the famous horse racing track, the Mahalaxmi racecourse. When the tide is high, the connecting causeway is submerged into the waters giving one the impression that the mosque and the tomb are afloat on water.
4. A causeway connects the structure, a minaret, to the mainland. The entrance of the mosque is designed in the typical Islamic style of architecture, in fact, a fusion of Indo-Islamic type. The holy saint's mausoleum lays on a silver frame which is supported by pillars on all four sides, adorned with mirrors of green, yellow and blue colours inscribed in a unique kaleidoscopic pattern with Arabic patterns edged in which spells the 99 names of Allah. Once every year the tomb is cleaned with rose water, believed to posses healing properties.
5. The saint Haji Ali is believed by the locals here to have been an affluent businessman who relinquished everything that was his old life in his single-minded quest of becoming one with God. He started doing Zikr (meditation) on a headland close by, and set on a Haj pilgrimage to the holy land of Mecca in Saudi Arabia. It is believed that he died on his way to Mecca, but verily a man of miracles, he was, had his casket float back to Mumbai — the land he cherished the most.
6. A note was found on his dead body stating that he be buried at the place it lands. The body miraculously came to rest at the rock island. His devotees wasted no time in building a tomb to pay their respect to the great saint.
7. One can reach the mosque only during low tides, as crossing the causeway during high tides can spell risk.