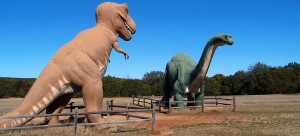 Dinosaur Valley State Park, Glen Rose, Texas
Take a prehistoric walk on the wild side by travelling million years back in time. You and the kids will delight in exploring five trails at Dinosaur State Park in Texas. You can see the dinosaur footprints, swim in the river and can even have fun on a mountain bike. Junior Ranger Explorer Pack is there exclusively for kids, which will keep them entertained for hours.
Stingray City, Grand Cayman Island
Want to be surrounded by dozens of stingrays or even kiss them? Welcome to this aquatic city, which is a surreal world indeed. The water is crystal clear and only one metre deep. And the dozens of gentle residents will not sting but will only tickle.
Glass Igloo Village, Finland
Here is where fairytales are made. No kidding. The experience is straight out of a fairy tale. You can stay in a glass igloo with attached toilets and showers at this snowy resort and watch thousands of stars or admire the Northern Lights.
To keep you nice and snug, sleeping bags are provided. The Kelo- glass igloo is for those who prefer a little more warmth. It is an igloo and a warm log cabin rolled into one, complete with a fireplace, sauna and kitchenette.
Santa opens his doors during the festive season for the little ones. There are husky safaris, and snowmobile rides for older kids.
Disney World, Orlando, Florida
Disney World is a family favourite. Some of the world's most adventurous rides, children's famous cartoon characters, and more come to life here. Disney World has a lot of exciting adventures to keep the whole family entertained. You'll likely spend most of your time in the Magic Kingdom if kids are in charge. If you stay at the Walt Disney World Resorts you will be able to spend more time at the park.
Kennedy Space Center, Cape Canaveral, Florida
Guests are transformed into astronauts for the day at the spectacular Kennedy Space Center. You and the kids will have a ball learning about life in space. From the family-friendly astronaut training experience to experiencing a shuttle launch you get to know all about life in space.
If you are visiting the Disney World in Florida you can visit the space centre easily as it is just an hour away from Orlando.
Sanibel & Captiva Islands, Southwest Florida
The beaches are covered with pretty white shells which is a sight to behold. Hunting for their perfect holiday memento will keep the little ones preoccupied for hours. This is a great place for tots to safely splash about as the water is shallow. You will spot dolphins swimming off-shore and ghost crab burrowing on the beach, which makes a visit to the islands even more worthwhile.
 .