Östergötland and Södermanland in Sweden: In Östergötland and Södermanland you can ice skate in the summer and winter. People even go for moonlight skating tours here. The ice is crystal clear in the cold months and placid in summer. There are professional guides and tour operators during all seasons and they will guide you to skate on the strongest ice and even customize the distances for you.
The Rideau Canal, Ottawa, Canada: This natural ice skating destination is famous not only for skating, but also for other winter sports, like ice hockey and ice walking. It runs through the centre of downtown Ottawa. During winter, the running water thickens into the world's largest ice skating rink — the Rideau Canal Skateway, which is 7.8 km long and is floodlit at night. This is one of the most scenic ice skating destinations from where you can see the entire city, its landmark buildings and nature's bounty.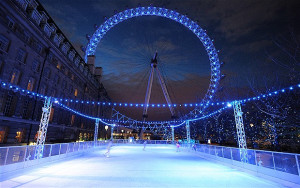 Keystone Lake, Colorado, USA: The 5-acre Keystone Lake is a destination for families. It is known for skating as well as skiing. Here you will find the cleanest snow. The view is also amazing with snow-topped mountains and forested slopes. The place is famous for its gorgeous mountain view (plus plenty of room for hockey games). It is also a great shopping destination as it has several shops, restaurants, hotels and spas surrounding the place.
Lake Placid: It is famous for its winter resort — the Lake Placid Club, which has played host to two Winter Olympics. The lake freezes in the winter, and soon it becomes the hot spot for skating and hockey.
Lake Morey, Vermont: When temperatures drop and the lake freezes, skiers flock the place. The place is also known for snowshoeing.
Canyon Ferry Lake, Montana: This man-made reservoir near Helena is a favourite with natural ice skating fans since the weather is not too rough. The lake becomes a smooth sheet of black ice and it is great for iceboating, too.
Anchorage, Alaska: This is a place where you will find plenty of snow. The most popular place in Anchorage, Alaska, for skating is the frozen Westchester Lagoon. The place is well kept. The ice is smooth and clean as it is mopped every day. Even the thickness of ice is tested regularly.
Stockholm, Sweden: During the chilliest Stockholm winters, the city's waterways freezes, and people start flocking for ice skating. An added advantage of this natural ice skating destination is that the brackish ice's salt is less dangerous as it doesn't crack very easily.
Kenai Lake, Alaska, USA: What makes this lake special is its depth. It has many skating locations, but Kenai is the most favourite.
Lac de Joux, Switzerland: Lake Joux is not very deep, and for the very same reason it freezes quickly. It is surrounded by unspoilt countryside and is a world of its own with a rugged charm.
Lake Lyndon, Canterbury, New Zealand: It is a glacial lake, which typically freezes every few years. It is a place where you can take your kids for fishing. It is nestled in New Zealand's Southern Alps, and is yet another popular natural ice skating destination.