Queensland is a celebrated natural holiday destination in the world. Queensland has the most exotic tropical islands off its coast along the great barrier in the northern part.  It offers something for everybody from sun kissed beaches to natural rain forests and wonders like Great Barrier Reef etc. A holiday in Queensland should be on every traveler's bucket list. The Great Barrier Reef is a world heritage protected
When it comes to tropical getaways there are few places that can beat Queensland's attractions. There are several natural tropical islands, several of them accessible only by flights, which offer perfect holiday spots to discerning tourists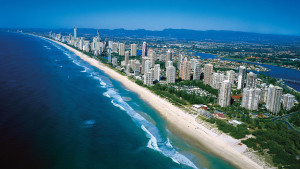 Hamilton islands are worthy of mention as a main island among 74 islands which are  most awe inspiring and jaw dropping beautiful  natural tropical island in Queensland. Whitehaven beach is a glorious spot to enjoy lovely sunset and sunrises, and a range of activities including golfing and diving, even night clubbing!
Fitzroy islands are one of those places where no amount of descriptions captures the pure natural beauty present. You can just relax and be at peace with yourself. Time slows down in these beautiful surroundings where you can trek through secret garden and the rainforest and come to the lighthouse and summit trail. Snorkeling is a delight in this place in peaceful surroundings.
Dunk Island is mostly a national park protected for its flora and fauna. Amazing rainforests are here home to exotic species of birds and butterflies including the celebrated Ulysses butterfly. There are a range of reptiles also that are rare and protected species. So the abundance of wildlife alone is worth making this trip for. There are jets skis and catamaran services locally available so you can be as active or laidback as you want to be.
Whitsunday islands are one of the most sought after destinations in the tropical islands of Queensland. It is extremely budget friendly place with the natural attractions present in all of queen's lands tropical islands. A must visit island which offers easy connectivity to other islands from here.
If you are looking for a romantic getaway, look no further than Brampton islands. It is an Idyllic island which offers sunny beaches coral gardens, nature walking trails etc for your enjoyment. You can decide on the level of activity you want to take up. There are so much panoramic and simply stunning views all over the place that you may just lose yourself in the lap of nature.
Moreton Island is a sand island which is ranked third in the world. It is beautiful untouched and mostly protected by Natural Park. It has a lovely warm weather even in winter! Well connected by ferry, you can make this beautiful place home for a few days in your travel schedule.
Only a few islands are covered in this as there are simply too many islands and attractions. You will keep going back to the tropical islands of Queensland to relax and enjoy your holidays.