Ooty, or Udhamagamandalam, as it is popularly called in Tamil Nadu, is one of the most popular hill stations in India. This charming hill station receives maximum visitors during the summer season. The cool and salubrious climate, well complemented by the lush and fertile greeneries, in Ooty, has attracted tens and thousands of tourists on their holiday vacation every year. The botanical garden, opened in 1847, has been a major tourist destination ever since. The Tamil Nadu Horticultural Department is entrusted with the responsibility of maintaining it all around the year.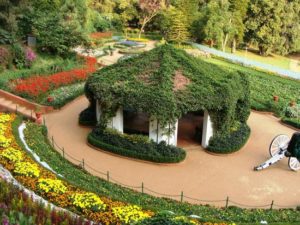 The Queen of Hill Stations will get its second botanical garden soon on a sprawling 80acres land, as per an announcement made by the Tamil Nadu Government. The Tamil Nadu Tourism Development Corporation is buoyant that Ooty's second botanical garden will see more tourist influx during the summer season.
The chief minister of Tamil Nadu, Mr E. Palaniswami, brought smiles to many when he made the announcement in accordance with Rule 110 in the Assembly House that a second botanical garden will be set up at Ooty. He followed it up with the allocation of the project cost of 10 crores for establishing the 200th year Evergreen Grassland at Ooty.
Large crowd hits the picturesque hill station of Ooty during the annual Flower show organised with great fanfare; the second botanical garden would add to the overall attraction.  Another famous park in Ooty is the Rose Park, which receives over 10 lakh tourists a year, resulting in traffic congestion during the peak season and lack of adequate parking space for the vehicles. The Chief Minister also announced that a permanent parking space that can put up as many as 500 vehicles will be opened at an outlay of Rs 3 crores here.