Bandra is a suburb located in West Mumbai known for its shopping, night life, famous eateries, high class residential layouts and a view of the Arabian Sea. It is also known as 'Queen of Suburbs'. Bandra cannot be missed in your to-visit list during your stay in Mumbai.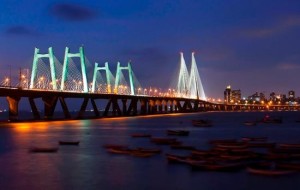 The famous Bandstand has a panoramic view of the Arabian sea with rocks studded on the shore. Watching the sunset and a leisurely walk in the evenings or mornings are refreshing here. Also called the lovers' point, named so aptly because of the young crowd who throng here for some lonely time. The number of eating stalls are plenty and in variety. The corn stalls, the coffee shops by the shore are very inviting. You could also head to the Bandra fort from where you can have a look at the Bandra-Worli Sea Link.
The Linking road is a heaven for shoppers with its innumerable shops for jewelry, accessories, footwear, clothes, bags at economical price. You can also get designer stuff at a very affordable cost here. Just that you would need to know how to bargain. If you are brand or designer conscious, not to worry, as there are many high end stores around Bandra where you can drop in for some exclusive stuff.
The Mount Mary Church is situated near Bandstand and is one of he famous churches in Mumbai. This Roman Catholic Church has a beautiful Mary statue. This is situated on a hill top which overlooks the Arabian Sea. A week long Bandra fair here attracts a lot of tourists and local people during the month of September. Bandra also has some old churches like St Andrew's, St Anne's, St Theresas which has remarkable interiors. A large Christian community resides here hence you can find churches in every nook and corner.
Mumbai being famous for Bollywood, has a Bollywood Walk of Fame for the movie crazy crowd. It is located at the Bandra's Bandstand and has hand impressions of many Bollywood's biggest stars. It also boasts of some life size statues of Bollywood legends. This is something similar to the Hollywood counterpart.
Bandra houses a lot of famous Bollywood movie stars. You can find quiet lanes in Bandra which has old residential buildings where people from all community and religion reside. These lanes boasts of huge paintings of Bollywood celebrities on the walls of these buildings. Walking these colorful and bright lanes takes you to the fairy land of hindi cinema.
Bandra has some of the best and famous eateries with a myriad of variety. Theobroma is located across the Linking Road and best known for its burgers, cakes and cupcakes. There are infinite famous bakeries here known for its delicious baked food. Food is available at any budget here but the taste is never compromised.