Havelock Island is the largest of the islands which has a chain of islands named Ritchie's Archipelago. The island consists of people who are Bengalis and many of these Bengalis have Bangladeshi origin. The government has made steps to develop the eco-friendly tourism on Havelock for a while now. It is the most visited islands but unfortunately it gets only a fraction of spectators that crowd the other islands. The time runs slow, the people are amicable and the basic necessities are moderately developed for the most part. Best time to visit any place is when it has the best weather and Havelock Island has it best during the months of mid-January until mid-May.
 Radhanagar Beach
It is one of the best white sand beaches that anyone can visit. It provides stunning view of nature, set in the beautiful backdrop of sparkling waters. It is a paradise for any nature lover as it is serene and in the midst of nature. It is impossible to resist a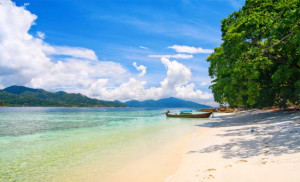 dip after catching a glimpse of the sparkling water.
As the place has its charm, it has its part of adventure too,through providing some adventurous water sports activities such as deep see diving and snorkelling.
Elephant Beach
The size of this beach has gotten reduced due to the after effects of Tsunami that occurred in 2004. In spite of that, Elephant beach is nevertheless a stunning place to visit and is famous for its corals. It is good place for adventurers as this beach has number of diving and snorkelling centres. One can also enjoy this place with books and some delicious food and drinks. This place is ideal for people who are in search for solitude and peace.
Kalapathar Beach
Kalapathar beach might be question of visit for some people as it is far away from the town but for people who wants to be alone or go alone with friends this is a good choice. One can make their own food and enjoy the day with nice music and drinks. As it the name suggests, black coloured rocks line the coastline here. Forest is found on one side of the road and once crossing, it has the amazing view of the heavenly and silvery beach. One might get immersed by the sheer solitude of the calm and relaxing environment. This is an ideal place for travellers to write some great travel stories.
Emerald Gecko
Benny and Linda, a couple run this cottage resort who also own an expensive resort called wild orchid. But this place is very affordable and is best place to stay. Visitors spend most of the time in beach and come back to the resort only for sleep and this place provides them with soulful food and makes them feel at home. Any budget traveller would love to stay in this place as it is very well kept and provides great comfort and warmth.