Phuket City has several tourist attractions. The fascinating thing about the place is that despite the development it went through since the advent of tourism, it still has its local charm.
If you are planning your next holiday to Phuket, see to it that the tour package given to you by the travel agent includes some of these marvellous landmarks.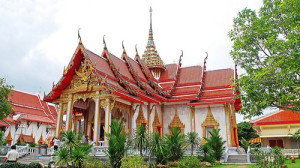 Phuket Old Town
Phuket Old Town, the historical centre of Phuket City, is an important commercial hub. It was established at the end of the 19th century and the beginning of the 20th century, and has splendid mansions and beautifully preserved houses built in Sino-colonial style that function as boutiques. Phuket Old Town has several restaurants, coffee-shops, and bars to keep tourists engaged, so it should certainly be included in your tour package.
Phuket Weekend Market
Phuket Weekend Market is a must visit if you want to experience the real Thai life. It is the biggest shopping and eating out destination in Phuket, so naturally it features in every travel agency holiday package. As the name suggests, the market is open only on Saturdays and Sundays on Wirat Hong Yok Road, and covers a 30,000 sqm area. It's a shopaholics paradise. You can shop for cloths, pirated items, accessories, souvenirs and more here at discounted rates. You also get to taste authentic local delicacies like sushi, satay (chicken or pork brochettes), pastry, kebab, fried insects, and much more.
Phuket Walking Street
Phuket Walking Street, held every Sunday, is yet another popular market. The commercial street is 350m-long and is known as the big market. Phuket Walking Street will give you a glimpse into the southern Thailand life. You get to buy a diverse range of products from handcrafted accessories and souvenirs to clothing and fancy jewellery. As is the case with any Thai market, Phuket Walking Street is also a foodie's delight. You can taste all kinds of street food like Thai sweets, beef and chicken skewers, barbecued squid, chicken and pork, and more.
Khao Rang
Khao Rang is the second highest peak in Phuket City. It is a beautiful place with breathtaking views of lush vegetation. If you want to relax in a peaceful environment, this is the place to be. You can also visit the Buddhist temple – Wat Khao Rang – the highlight of which is a golden Buddha statue. There are parks, picnic spots and restaurants for visitors to hang out.
Phuket Trickeye Museum
Phuket Trickeye Museum, which was opened in 2014, is a 3D museum set in a large two-storeyed building. It has on display 100-odd paintings, which are indeed amusing. It is the best place to click some great pictures. There are sample photos to show visitors how they should position themselves to take the most realistic-fantasy picture. From classic paintings with a twist to scenes of modern life and movie scenes, it stimulates your imagination. Most travel agency holiday package includes this museum in Phuket City.
Baan Teelanka – The Upside-down House
Baan Teelanka – The Upside Down House is a new attraction in Phuket City. It is a fully furnished three-storeyed house built exactly leaning on its roof. All furniture suspends from the floor as you walk on the ceiling. Visiting Baan Teelanka is, indeed, a brain-teasing yet amusing experience. The house's garden has a maze. Enter it if you have lots of time to spare.
Thai Hua Museum
It was actually a Chinese language school, which underwent major renovation in 2008 and reopened as a museum the same year. To know the history of Phuket, this museum is a must visit. It is set in a well-preserved mansion built in Sino-colonial style, and features several exhibition rooms filled with information about Phuket.