Summer is the perfect time to escape from a regular life and plunge into the holiday mood. It is the best time of the year when you can visit some of the awesome places around the world to have your ultimate blissful vacation. You can enjoy summer at a beautiful beach, a dainty village or a buzzing city. Here are a few places from around the world that are ideal for a perfect summer getaway.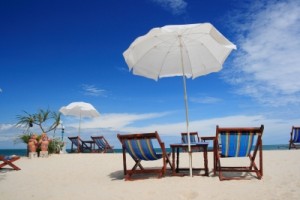 Beach holidays:
There could be no other place like a beautiful island to spend your summer. A crystal clear beach and a platter of seafood is a dream come true. Here are some of the beach destinations if you consider to spend summer in a seafront, snorkeling and all.
Skopelos Island, Greece:
Nothing could be more pleasant than a fine Greek holiday. Skopelos Island is a perfect place for every visitor. It's tranquil hilltop havens, clear beaches and authentic Greek cuisine is a magical combination. If you want to have a silent vacation free from buzzing tourists, then this is the ideal spot for you. This place has little visitors and it is yet the most enjoyable place for a quick vacation.
Canary Islands, Spain:
This is an amazing archipelago of seven unique islands distinguished from each other with different personalities. This place has a pleasant year-round climate ideal for year-round holidays. These are a group of volcanic islands with breathtaking panoramic views and sandy beaches. Each island has an airport for easy access. They have exotic spa retreats as part of holiday packages.
Village holidays:
Another way for a quick getaway is to visit some of the quaint villages. This gives you a great opportunity to mingle with local people and enjoy their native meals and learn their exotic culture.
San Gimignano, Tuscany, Italy:
It is a small village nestled in the heart of Tuscany which is Italy's wine country. It is medieval magic to move along the streets of this village. Enjoy local Tuscan red wine and homemade Italian pasta in the porch, watching the sunset over the silent farmlands.
Matera, Basilicata, Italy:
If you have an unbeatable love for architecture, then Matera is definitely a must see. You can't afford to skip this wonder in the history of buildings. This is probably the only place to have so many cave homes that are directly carved into the rocks of the hills in that area. It is a famous site for Hollywood movies.
City holidays:
If you are a party maniac, then you must definitely go for the perfect city vacation to experience that adrenaline rush.
Quebec City, Canada:
Summer is a spectacular season in Quebec. The city comes alive with music and festivities everywhere. Innumerable street shops offer exotic delicacies at great prices. It is the time when music, dance, art, sports and competitions keep you entertaining throughout your holiday. Colorful fireworks and hot air balloon rides will definitely make your summer vacation much more interesting.