The Gandhi Mandapam in Kanyakumari was constructed in 1956. The "father of the nation" Mahatma Gandhi's ashes were kept here before they were dissolved in the sea. It boasts distinct architectural details to honour the life of the timeless Ahimsa (non-violence) champion. Incidentally, Gandhi had visited Kanyakumari in 1925 and 1937.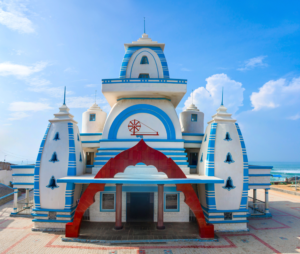 Shortly after India became a free nation, the great Mahatma was tragically assassinated by a Hindu fanatic in 1948; his remains were cremated and dissolved in various parts of India as part of the Hindu rituals. Kanyakumari became one of the sites where his ashes were removed on February 12, 1948, and a mandapam (memorial), a pillared structure open for public darshan (ritual), was fittingly raised on the site where his ashes had been laid to rest near to the Kumari Amman Temple.
The structure that was based on the Orissa style of architecture was built to precision to honour the great Indian leader. The central shape stands tall exactly at 79 feet, which was Gandhi's age at the time of demise. Perhaps the most striking feature is the opening on the roof of the building designed in such a way it allows the sun lit rays to come through it on October 2nd, the birth anniversary of Gandhi, every year, and fall exactly on the spot where his urn was kept.
The maintenance of the museum was handed over to the Public Works Department of Government of TamilNadu in the year 1978. It goes without saying that while all Mandapams or memorials across the country serve the purpose of honouring Gandhi's life and work, this is the only Mandapam that has harnessed the sun to honour the great soul!