Gulmarg, the popular hill station and skiing destination, can rightly be called the crown of Kashmir. It is the perfect picnic spot, and has featured in several Bollywood films like Bobby, Jab Tak Hai Jaan, Yeh Jawaani Hai Deewani, and Highway, to name a few. Adventure seekers, nature lovers and spiritual seekers will never run out of place to visit in Gulmarg. Here is a list of some of the must-see sightseeing spots in Gulmarg.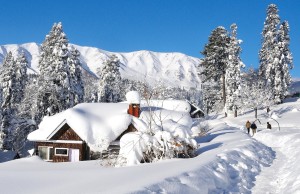 Gulmarg Golf Course
Gulmarg Golf Course with its irregular curves is one of the largest 18-hole golf courses in the country. It was in the early 1920s that golfing began in the reign. Thanks to the British who chanced upon the golfing possibilities of the place while spending their summers here. It has now become one of the most popular golfing destinations in India.
Gulmarg Biosphere Reserve
Gulmarg Biosphere Reserve, which is home to a lot of rare species of avifauna, fauna and flora, is spread over an area of 180 sq km. Here you will find biodiversity in its richest form. It is situated at a height varying between 2400 and 4,300 metres above sea level.
Shrine of Baba Reshi
This is a popular religious haunt, which is known for its architectural splendour, built in the 13th century. It is dedicated to Baba Reshi, a Muslim saint, who is believed to have meditated here. People from all walks of life visit the shrine to seek blessings. The shrine is built in old Kashmiri architectural style and is a symbol of fine craftsmanship.
St. Mary's Church
St. Mary's Church built in Victorian style of architecture in the early 20th century is a major tourist attraction in Gulmarg. The church has grey stone walls and a steep green roof with wooden trimmings. It is surrounded by tall alpine trees and soaring mountains, which are covered with snow during winters.
Strawberry Valley  
If you are visiting Gulmarg in the summer you are in for a delight. You get to taste the best strawberries you have ever tasted in Gulmarg's Strawberry Valley. A walk to this unexplored part of Gulmarg will be certainly a walk to remember.
Apharwat Peak  
Situated at an altitude of almost 4200 m above the sea level, the Apharwat Peak is one of the most stunning peaks in the country.  It is located just a few kilometres away from the Line of Control (LOC). It receives heavy snowfall and is covered with snow all year round. This makes it an ideal spot for skiing. You can take a cable car ride to reach the spot.
Ferozepur Nallah  
Between the beautiful Chinamarg and Nurpur Pass lies Ferozepur Nallah, an enchanting mountain stream flowing through lush valleys. It is surrounded by pine trees, verdant pastures and soaring snow-capped mountains. It is the picnic spot of your dreams. The place is also a popular fishing spot.
So, while planning a holiday to Gulmarg, make sure that you include all these charming places in your itinerary.