An exotic holiday location that is fun and safe is what honeymooners look forward to when they plan an international holiday.
Red Deer, Alberta, Canada, is full of beautiful places, picnic spots, eateries, and museums. It will be an ideal holiday haunt for honeymooners. Here are some of the places you should add to your honeymoon tour package.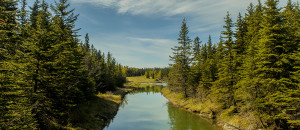 Alberta Sports Hall of Fame and Museum
Its easy access makes it a favourite spot for young couples. It offers a lot of fun activities which you can enjoy as a couple. Their Hall of Fame is another attraction. The museum features cool sports related artefacts.
Heritage Ranch
The Heritage Ranch is located next to the Alberta Sports Hall of Fame and Museum. If you are travelling along the highway it is a good stop. There are horse stables, playgrounds and walking paths. At the Heritage Ranch you will also find Westlake Grill. Featuring locally sourced food the restaurant is rustic posh.
Kerry Wood Nature Centre
The Kerry Wood Nature Centre is situated in Waskasoo Park. It has a lot of attractions. There is a natural playground. It is a great place to take a walk as the scenery is breathtaking. You can walk through the nature preserve, which is the perfect spot for bird watching.
Bower Ponds
Bower Ponds, located on a former sawmill, is for couples who would love to engage in some sporty thrills. You can rent helmets, skates, and skating aids and skate on the ponds in the winter. You can rent kayaks, paddleboats, waterballs and canoes in the summer. Take a romantic ride on one of the paddleboats. There is an excellent playground, suitable for all ages. To reach the playground you have to walk a bit, but it is definitely worth it. There are also plenty of walking paths and picnic spots.
Downtown Red Deer
If you are a foodie Downtown Red Deer should be your haunt. It has some great places to eat out. There is also a picnic park, where you will find plenty of picnic tables, large trees, and a great playground. To the South of the Red Deer Rec Centre there is the Red Deer Market, which is open on Saturday mornings in summer.
Sunnybrook Farm Museum
A visit to this farm museum, which is located right inside Red Deer, will give you a taste of the good old farm life. The farm is located on part of the unique farmstead of pioneer farmer James Bower. Thousands of artefacts that have been gifted to the museum are housed here. You will also find many original buildings. If you are visiting the museum during the summer months you can take wagon rides, and visit farm animals.
The Donut Mill
The Donut Mill with its cream filled donuts is certainly a must visit. They stock some creative options, including Rolo, orange creamscicle, and apple pie. They also have a cafe that serves sandwiches, soups, etc.
You will find some of the best honeymoon tour packages in India. If you are fascinated by Red Deer, Alberta, ask your travel agent to include it in your travel itinerary.