If you are in Srilanka (formerly Ceylon), the Land of Buddha as it is known, Dambulla Cave Temple is one place you shouldn't miss no matter what. This ancient temple contains a series of five pre-historic caves and 157 statues of Lord Buddha in total. The several exquisite paintings on the walls and ceilings of the temple are a reflection of the popular Buddhist religious art of the olden era.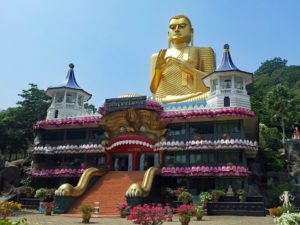 The history of the awe-inspiring caves, temple and rock dates right back to the 1st century BC. It's not just the statues in the caves that could fascinate one, but also the several delicate and sinuous paintings on the ceiling and walls, produced with indigenous traditional paints.
The rich ancient history, archaeological significance and culturally artistic values of the temple were recognized by the UNESCO as a World Heritage site in 1991. The temple has stood the test of times for over twenty two centuries and never fallen shy of reverence, adoration and spirituality. Visitors may need to use the steps leading to the top of the rock for a panoramic view of the temple which is as awe-inspiring as its stunning interior.
It is thought to have been the home to pre-historic Srilankans as several burial sites were excavated in the past that are believed to be at least 2700 years old. However, it gained significance only after the rise of Buddhism in the Island nation. It is traditionally believed that the caves were converted into a permanent temple by Valagamba of Anuradhapura who went into exile from there at the time; he was then accepted as a refugee by South Indian usurpers. He spent the next fifteen years into hiding within the caves before successfully reclaiming his kingdom: he wanted to thank the gods and built the temple where he had sought refuge for years.
The numerable artefacts and statues that one can find inside the Dambulla is a true reflection of the artistic talents of the Buddhist era in Srilanka. A visit to the cave and a walk through it is worth every cent and an awesome day out.
Alwar
Alwar is 239 kms away from Sujangarh. It offers you a mix of architecture, history, and nature, and is a perfect weekend getaway. It is home to the grand City Palace, the wonderful Sariska Tiger Reserve, the stunning Siliserh Lake, and also the Government Museum. You can book a safari in the Sariska Tiger Reserve. The reserve is home to the Bengal Tiger, Indian Jackal, Indian Leopard, Wild Boars and Sambhar. Another lovely spot is the Siliserh Lake where you can enjoy a lovely boat ride.
Pushkar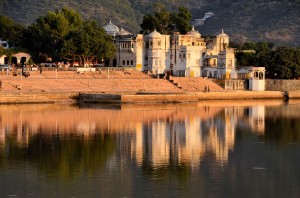 Pushkar is 139 kms away from Sujangarh. It is full of culture, colour, joy and warmth! The colourful streets lined with small shops are the first thing that attracts one to Pushkar.  There are lovely markets, numerous temples and a serene lake. The best time to visit the Pushkar Lake is during the evenings. Next to the lake there is also a small temple. You can explore the market next to the temple, and also the lake. At the market you will get stunning silver jewellery apart from salwaar suits and saris.
Bundi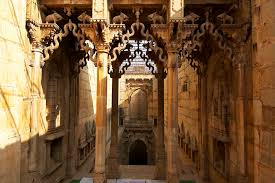 The City of Rajputs, Bundi, is 284 kms away from Sujangarh. It is a captivating city that is home to a number of forts and palaces, and surrounded by hills on three sides. The Garh Palace is a must visit. It is a monument that has stood the test of time. The manicured gardens and walls with contemporary paintings make the fort or palace a spectacle in itself. The strong engineering skills from centuries ago are well displayed in the many stepwells, which was built for harvesting rainwater. There are many tall pillars, colossal forts and more to visit in Bundi. The Bundi Palace is also a must visit. It houses many frescoes and murals. If you want a royal stay at Bundi, Nawal Sagar Palace is perfect. This quaint town is just right for a relaxing getaway as it is not very crowded like other cities.
Bikaner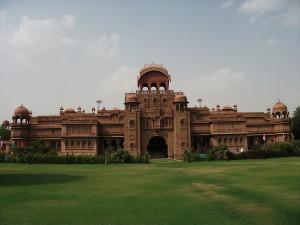 To enjoy the true spirit of Rajasthan you must visit Bikaner (132 kms away from Sujangarh). This medieval city is outlined by a maze of fort walls, narrow streets, and old Havelis. The holiest temple here is the Karni Mata Temple where rats are fed and worshipped. In this desert city with palaces, forts, and temples built with yellow and red sandstone Rajput art and architecture shines in all its glory. Some of the heritage hotels are palaces for eg. the Laxmi Niwas Palace and Lallgarh Palace. The Junagarh Fort is a must visit. The grandiose lifestyle of the past Maharanas is preserved in the many museums here. There are also a couple of notable Jain temples to visit. You can have authentic Rajastini delights, go for dune camping and even camel rides in Bikaner.
Ajmer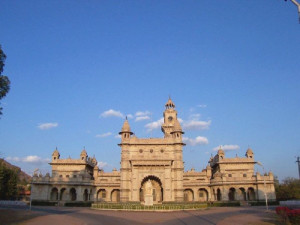 Ajmer is 141 kms from Sujangarh, and is surrounded by the Aravali hills. The shrine of Khwaja Moinuddin Chisti is a very popular tourist attraction here. The city presents a mix of Islamic and Rajput architecture. A must-see is the splendid Taragarh fort located on the top of the Taragarh Hill. The tomb of Khwaja Moinuddin Chisti – the Ajmer Sharif Dargah – is at the foot of this hill. You can also visit the Akbar Fort and Museum, and several Islamic, Hindu, and Jain religious sites. For shopping visit the women's market.
You are inactive and seated for long periods of time when you are flying. The environment can be pressurised and low in humidity. Air travel allows for fast movement across many time zones unlike other forms of transportation, causing a disruption to the body's 'biological clock'.
Here is a list of things you can do to take care of your health in-flight and after: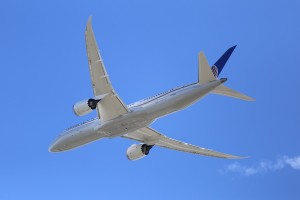 Cabin Humidity and Dehydration
Humidity levels are less in the cabin. This can cause drying of the throat, nose and eyes.
We recommend that:
During your flight you drink water and juices frequently.
Drinks like tea, coffee and alcohol can increase the body's dehydration so don't drink them in excess.
If your eyes are irritated remove contact lenses and wear glasses.
To refresh the skin use a skin moisturiser.
Eating and Drinking
Both during and after your flight proper drinking and eating will improve your comfort.
We recommend that:
Just before and during the flight avoid overeating. When the body is inactive it is difficult to digest too much food.
In-flight Workout
Certain muscle groups can become stiff as a result of long periods of sitting. These exercises will help muscle relaxation by increasing the blood circulation of the body.
Some of the exercises are:
Ankle Circles: Move one foot clockwise and the other foot counter clockwise.   Reverse circles.
Neck Roll: Drop ear to shoulder after relaxing shoulders and gently roll neck forward and back. For about five seconds hold each position. Repeat five times.
Knee to Chest: Clasp hands around the left knee and hug it to your chest. Hold stretch for 15 seconds. Repeat 10 times.
Forward Flex: Slowly bend forward with both feet on the floor and stomach held in, and walk your hands down the front of your legs toward your ankles. Slowly sit back up after holding stretch for 15 seconds.
Shoulder Roll: Roll your shoulders in a gentle circular motion.
Every hour do these exercises for around three or four minutes. Also, occasionally get out of your seat and walk down the aisles.
Cabin Pressurisation
For your health and comfort it is necessary to pressurise the external air drawn into the cabin to an adequate density.
During climb and descent the change in cabin pressure does not pose a problem for most travellers. However, you could experience discomfort if you suffer from sinus infections, or certain cardiovascular conditions.
Use nasal sprays half an hour before the descent if you have nasal congestion. This will help open up your ear and sinus passages.
Try swallowing or yawning to 'clear' your ears.
If you are flying with a baby give your baby a dummy during descent as swallowing will help infants level the pressure in their ears.
Jet Lag
When you travel to different time zones without giving the body a chance to adjust to new night and day cycles it can cause jet lag. Your biological clock is disturbed the more time zones you cross during your flight. The common symptoms are tiredness, sleeplessness, and appetite at odd hours or loss of appetite.
Try these tips to minimise the effects of jet lag:
Before your flight get a good night's rest.
If possible, after arrival give yourself a day or two to adjust to the new time zone.
If you suffer from sleeplessness after your arrival try some light exercise, do some reading, or go for a brisk walk.