Whether you are scuba diving with thresher sharks or whaleshark-watching at the Malapascua Island in the Philippines, the place to be is Tañon Strait.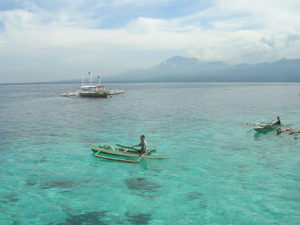 1. It is the largest marine protected area in the region with a total area of 521,018 hectares, roughly five times bigger than the popular Tubbataha Reefs Natural Park (97,030 hectares).
2. Situated between Negros Island and Cebu Island, the Tañon Strait connects the Visayan Sea and the Bohol Sea in the North and South respectively. Though it's quite narrow (27kms wide), its water are pretty deep reaching 500mts.
3. Tañon Strait covers smaller, but popular protected areas such as the driving sites in Malapascua, Moalboal, Pescador Island, Mantalip Reef and Bantayan Island and several more.
4. Because Tañon Strait falls under the direct jurisdiction of the national government, three provinces, two regions, 42 coastal towns and cities and 298 villages, it has often been the victim of weak and inconsistent conservation policies of the seascape owing to conflicting and flawed government decision-making.
5. In 1998, the then President Fidel Ramos issued an executive order declaring it to be a protected area.
6. There are 14 species of whales and dolphins in the strait, accounting to nearly half of the 27 species of whales and dolphins in the entire country. It is the home to dwarf sperm whales, spinner dolphins, spotted dolphins and pygmy killer whales.
7. Some of the other rare sea species include the giant diamond-backed squid, rare chambered nautilus and highly-endangered dugong.
8. There are about 26 species of mangroves, 20 species of crustaceans, 70 species of fish and coral reef with a total area of 18,830 hectares.
9. Industrial pollution, illegal Commercial fishing, erratic policy-making of stakeholders and deleterious fishing methods are issues affecting the economic stability of the region.
10. These threats have negatively impacted the fish rearing in the strait, which in turn, have had hit the livelihood of 43,000 fishermen that are dependent on the protected area. A stark reduction of fish catch from 5kg a day in the 1970s to only 2kg today stands as a testimony to the appalling consequences of illegal fishing methods.