Brazil is a wonderful place for an amazing holiday. It is a vast country in South America with an enormous topography that makes it an ideal place for a memorable getaway. It has got a lot of exotic places to amuse every traveler. If you are crazy about travelling, then you got to visit Brazil at least once in your lifetime. It's definitely worth it. Here is a list of all the most popular places around Brazil that will definitely give you an experience of liberty.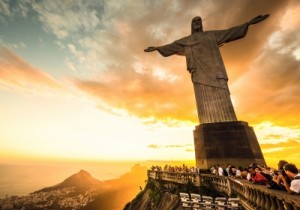 Rio de Janeiro:
It is a unique place in the world that is surrounded by innumerable attractions. It is located in the southeast part of Brazil. It is the land of world famous landmarks that include Christ the Redeemer Statue. It also hosts the famous carnival every year. It is surrounded by natural attractions like the popular Sugarloaf and Corcovado mountains and the Copacabana and Ipanema beaches. It gives you a fantastic gastronomic experience with an array of fresh native mouthwatering dishes.
Iguazu Falls:
It is a stunning waterfall located on the Iguazu River. This natural beauty offers a breathtaking view of the rich fauna and flora as it is present amidst a thick forest. It is located at the border that separates Brazil and Argentina.
Salvador:
It is one of the most popular destinations in Brazil. It is so famous around the world for its extravagant and vibrant carnival celebrations. The music and the colorful display will definitely steal your heart. It is the oldest city in America and it has a lot of beautiful beaches and a wonderful native cuisine.
Amazon River:
It is one of the most famous places in the world and a must see. It is located in Northwest Brazil and the city of Manaus serves as the gateway to the Amazon rainforest. The long river bordering the thick rainforest rich with exotic species of flora and fauna are incredibly attractive.
Recife:
It is one of the largest cities in Brazil. It has plenty of attractions. It has innumerable waterways from which it is popularly known as the Venice of Brazil. Its scenic beauty with a lot of old towns, islands, forests and rivers make it a favorite place among tourists.
Brasilia:
It is a modernized region of Brazil. It is located in the highlands of Brazil and is a popular destination among the tourists. It has an attractive infrastructure that makes it a highly visited city.
San Paulo:
It is located in the Southeast of Brazil. It is Brazil's largest city with its enormous and stunning skyscrapers. It is a combination of forests and busy parks everywhere. It is the gastronomic capital of Brazil and has a vivid culture that has earned credits from tourists around the world.
These places are a must see and they make what Brazil really is. Several hotels and resorts are available in all of Brazil that offers a convenient stay. All-inclusive holiday packages are also available to make your holiday an interesting and memorable one.