Interlaken is a resort town in Bernese Oberland in Switzerland situated between lakes Thun and Brienz and alongside the Aare river that flows between these two lakes. It is one of the most famous international destinations. The presence of it in the Alps makes it a heavenly place to visit and is the main get away to mountains and lakes of this region. Interlaken is an exotic place for all kind of tourists who love adventure and the ones who admire nature. The list of things one can do in Interlaken is exhaustive both in summer and winter seasons. We will see some of the most important places to visit and the things to do here.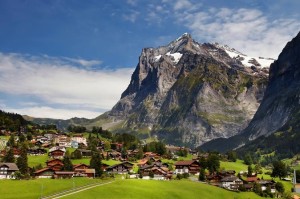 For the best Alps view in Switzerland, you can take aday trip from Lucerne. While riding the rack railway you can get a magnificentview of beautiful landscape of Mts.Eiger, Monch and Jungfrau sprinkled with small villages. A train trip to the Jungfraujoch station is totally an unforgettable experience. The train ride through the Alps is so overwhelming and the walk through the palace of ice is equally good. The Giessbach falls, which falls from a tremendous height creates a beautiful scene when it joins the tranquil waters of Lake Brienz. You can go to terrace of Grand Hotel Giessbach to get this splendid view. A riverside walk on the path running beside the river Aare on a warm day to get away from the busy crowd is very refreshing. Harder Klum is the center point for wonderful views of Brienz and Thun Lakes and the entire the Jungfrau region. Interlaken Castle has its setting in a beautiful location with gardens at the entrance and mountains at the backdrop. This castle features the Tin Figure Exhibition. Hoheweg is the main street in Interlaken that stretches from central square to the east. This street has many hotels, restaurants, cafes, shops. You can take a stroll along this street and keep yourself entertained. Hoheweg is the shopping and entertainment centre. You could also get fantastic views of the Jungfrau mountains from here. Hohematte is a meadow present in the middle of Interlaken. Views of mountains from here are stunning and this place is filled with splendid flowers and holds many sporting activities like paragliding. The casino Kursaal is built in a very beautiful location amidst eye soothing gardens, fountains and magnificent mountains at the backdrop. It is definitely worth a visit to view this splendid scenery even if you do not intend to gamble at the casino. Unterseen is a historic place with wooden buildings and has countryside charm. This place is slow paced with peaceful hotels and restaurants serving Swiss food. There are cruise trips on Lake Thun or Lake Brienz which have special themes with entertainment that you can enjoy. You could either take a half day trip or a full day as per what you would like see. Lake Thun has churches, fortresses, farmhouses and castles. Lake Brienz has pristine water and a beautiful setting that is surrounded by mountains and waterfall. Many adventurous activities like canoeing, rafting, paragliding, parasailing, skiing, hiking, hang gliding, sledging are prevalent here for all age groups.
With a zillion things to do and see in Interlaken surely you would have a memorable trip.