Situated at about 18km from the Madikeria Taluk in the district of Kodagu (Coorg) in the state of Karnataka, the Mandalpatti Mountains are part of the vast Pushpagiri reserve forest. A bumpy four-by-four Jeep ride along the circuitous road would take you atop the Mandalpatti hills. If you're an avid bike rider, the road to Madikeri, especially from Bengaluru offers everything you can wish for. Mandalpatti, in the local language, is called 'Mugilu-Pete' or 'Mugilu-Peth' meaning Market of Cloud (Mist).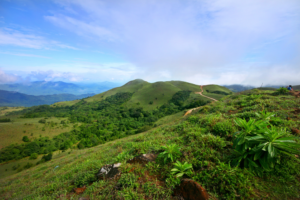 There are two ways to reach this mesmerizing hill station, one through the Makkanduru (around 35 kms) and Abbi Falls junction (about 20 kms).
Madikeri is the nearest town to Mandalpatti. You can easily drive 17kms to Mandalpatti from Madikeri all on your own, out of the total distance of 20kms, but the last 3kms is Pushpagiri reserve forest area, hence permission is restricted by the forest department. You'll be asked to park your vehicle at the Mandalpatti forest checkpoint. From there on you have to either take a walk all the way up to the hill, of course if you love doing a bit of trekking, or take a Jeep to the Mandalpatti top. Another trekking option is the Nishani mote trek. While returning from Mandalpatti you can take the Makkanduru route, and drive through the lush green coffee plantations. Small and clear streams and freely flowing water falls speckle the route. You will be in for a slightly bumpier ride via Abbi falls, though the travel time is reduced a bit. If you like to cover these places, the best route is that of the Abbi falls junction, and ensure you return via the Makkanduru route. Why not also view the Kote Abbe falls taking this route?
You can make a jeep ride to Mandalpatti directly from Madikeri or from the Mandalpatti checkpoint. The jeep halts there for about 45 minutes. A jeep can also be hired from Abbi falls junction to Mandalpatti. The ride will cover a total of one hour to reach the viewpoint.