Traveling in flights has become very common these days. This is mainly due to the cheap air fares which make them more affordable. More people are attracted to choose flights as their travelling option because flights are faster and now they are cheaper. In order to get cheap flight tickets and the best value for money, there has to be some effort from the passenger side. Booking flight tickets online for a very low and competitive rate is not easy for the weary travelers. There is no real shortcut for locating cheap air fare tickets, hence it is essential that you shop around in the internet and check various sites to find the best deals and attractive pricing options. If you are really ready to save huge bucks on your flight tickets and when you are also willing to put some extra effort and time, then you will be rewarded big time.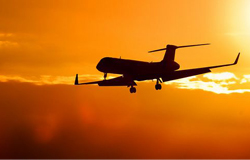 • Search and compare various sites – One primary rule to book cheap flights is that never book the first price you see. Check your dates and the options with various websites. Doing so will help you in gaining an overall idea about the pricing model and will help you in deciding better.
• Change the dates, timing and switch airports – You can save a lot of money when you switch the dates just one day ahead or a day after the normal vacation. When you avoid major airports and choose other options to reach your destination, it will have a major impact on the ticket prices. Switching the timings of your travel also helps to reduce a significant amount of money.
• Fly during the weekdays – Ticket prices hike up usually during the weekends since many people will be travelling in the same time. Travelling during the weekdays will help you gain attractive ticket prices.
• Plan and book your tickets early – During vacations and the peak traveling season, the ticket fares sky rocket. The ticket prices increase as the holidays become imminent. Hence, it is essential that during these seasons you plan and book your tickets well in advance. When you are planning for international travel, booking tickets 3 to 6 months in advance will have a huge difference in the ticket prices. There are times at which you may get lucky in last minute deals, which leads into the next tip.
• Buying tickets late – When the airline is not able to fill their flights they will announce some last minute deals, these prices will be reduced to half or even less. There are other airlines which release weekly newsletters in which they provide information about such last minute deals. If you are willing to withstand the suspense until the last minute then you will be able to find huge money savers.
• Check for the deals and discounts –Sign up for alerts and notifications with the airlines and travel website. This will help you gain important information about the season sales, package deals and also many last minute deals.