The internationally acclaimed Dubai Shopping Festival 2013 is a month-long extravaganza, a dream family holiday that is set to commence in January 2013. It is a heaven on earth for shoppers, a magical fantasy world for children with its great souks, amazing malls, great deal of discounts, daily car raffle draws, fireworks and much more.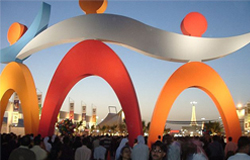 Online Travel Sites: Emperor Traveline offers outstanding packages tailor-made by the team of professional and experienced tour consultants in order to suit every customer. Many online travel sites offer good deals on travel to Dubai during the shopping festival. Booking early can get attractive discounts. Also, airlines in Dubai use this shopping festival as an opportunity to boost their business by forming an alliance with travel websites and offer great discounts on the packages. Spend time exploring such websites to get the best deals for Dubai Shopping Festival 2013 making sure to check the terms and conditions of the deal.
Some airlines like Emirates, which is Dubai's official airline, offer a "Stay 4, Pay 3" package that includes airport-hotel-airport transfers by a private car, an Arabian Adventures welcome tour, and many other benefits. Better discounts can be availed when two or more passengers travel together.
Online Coupons/Promotional Material: The promotion for Dubai Shopping Festival 2013 is already underway. For a little fee, coupons can be found for the shopping festival that can get you good deals on airfares or stays in hotels while in Dubai. During the Dubai Shopping Festival season it is a good idea to keep checking local magazines and newspapers as some retailers selling major brands announced up to 75% discount on jewelry, electronics, watches, textiles, perfumes, etc. All the malls and stores in Dubai place adverts in local magazines and newspapers with interesting deals. One can compare discounts offered by various stores using these promotional materials.
Travel agents: Emperor Traveline maintains a close association with high-class yet affordable hotels in Dubai. A better deal on shopping packages can be obtained through them. Find out if your agent can offer you such a deal in Dubai. We make the possibility of finding better deals easier. The Hotels in Dubai also offer great deals to tourists during the Dubai Shopping Festival season.
Local Guide: It is worth employing the services of a good local guide who can provide information about shops that offer much better discounts than the bigger brands in malls because small shops do not incur huge expenses on promotion of their goods. Consulting with the guide before purchase of any branded clothes or ornaments is also a good idea as he could know someone offering a better deal on those.
Fellow Traveler: A fellow traveler can be a good source to share tips regarding best travel deals. It could be mutually beneficial if tips can be shared with your fellow traveler.