If you are an eco-adventurer, your idea of a perfect trip will be to immerse yourself in the natural world. It goes without saying that you are also a responsible traveller who is well aware that any of your actions will have a lasting impact on the ecosystem. We list out top five ecotourism hotspots in India as well as abroad that is on the bucket list of every well-informed eco-tourist.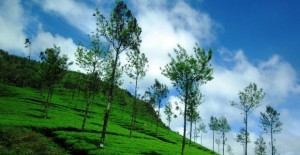 Kerala
Kerala, also known as God's Own Country, is known for its sandy beaches and lush virgin tropical evergreen forests, finest wildlife sanctuaries, national parks and trekking spots. It is home to unique animal species like the Nilgiri Tahr (an endangered mountain goat), lion-tailed macaque, and many more. The Rajamala National Park, Wayanad Wildlife Sanctuary, Silent Valley National Park, Eravikulam National Park and the Lake Periyar Wildlife Sanctuary are an eco-adventure's haven. These parks are maintained using the scientific conservation methods, without disturbing the traditional lifestyle of the tribals in the region. Kerala's highlands are also rich in flora and fauna. The hill stations are also known for its tea, coffee and rubber plantations.
Dubai
Dubai is known for its shopping destinations and sky-high architectural wonders. However, not many know that the Middle East tourist haven has one of the world's best ecotourism destinations – Al Maha Desert Resort and Spa, which is Dubai's desert conservation reserve. You will find here one of world's rarest animals – the Arabian Oryx. It is Dubai's first national park, which grows 6000 indigenous trees, grass and shrubs. You can also indulge yourself in camel treks and desert safaris. The resort recycles 100 percent of its water. So here is another reason to visit Dubai.
Palau
The island nation of Palau, which is known for preserving its environment, is one of the world's leading diving destinations with an unbelievable biodiversity. It is home to around 7000 species of coral and has 1,400 varieties of fish. There are untouched beaches and trekking tracks through dense forests. The Palau Conservation Society manages more than 400 miles of reefs and lagoons. It has also earmarked non-fishing zones and 40 protected areas.
Kenya
Kenya has around 50 national parks and reserves. Its diversity is what sets Kenya apart from other ecotourism destinations. Apart from its diverse wildlife and unique ecosystem, it has mountains, rain forests, deserts and beaches. You can either laze around the beaches or go diving along the coral reefs. Kenya offers some of the world's most responsible safaris too. The accommodations follow sustainable tourism practices.
Bonito, Brazil 
Bonito is famous for its spotless rivers, mighty waterfalls, verdant landscape and diverse range of wildlife. To preserve Bonito's natural beauty, the government has regulated the number of tourists visiting the place. The Caiman Ecological Refuge in the Pantanal region of Brazil was named one of National Geographic Adventure Magazine's "Best Green Adventures" owing to its success in preserving the eco-diversity. This 132,000-acre cattle station practices a sustainable approach to ranching, saving the world's largest wetlands from destruction due to grazing. The Caiman Ecological Refuge is a working cattle station, surrounded by forests, fields and waterways. Thirty other private nature refuges have been started based on the model.