India has a rich history, and is famous for its forts and palaces. They are architectural wonders and anyone visiting India would certainly include these palaces in their itinerary. The opulence and grandeur of these palaces will take your breath away. A visit to these architectural marvels becomes even more enjoyable if you share the experience with someone you love.
What make these palaces unique, apart from their opulence, is the innumerable stories associated with them. Some stories are romantic, while others are haunting, but each story evokes passion and surprise. These stories are what make these palaces the perfect romantic getaway. Many palaces have been converted into hotels by their royal owners. Read on to discover the top 5 palaces in India to explore with your partner.
Udaipur City Palace, Rajasthan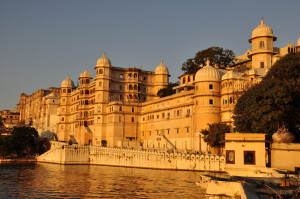 Udaipur is known as the city of palaces and lakes. The City Palace Complex overlooks the famous Lake Picola. The Mewar royal family still occupies part of the complex. The rest of the complex has been developed into a tourist destination that gives the visitors an insight into the life and times of the Maharanas of Mewar. The City Palace Museum is also a must-see. At the museum you can see the Mardana Mahal (King's Palace) and Zenana Mahal (Queens Palace). It also houses many art galleries, photographs and paintings.
Mysore Palace
Maharaja's Palace, more commonly known as Mysore Palace, was designed by British architect Henry Irwin and constructed between 1897 and 1912. It is not a very old palace, and is owned by the Wodeyar dynasty. The first palace was built by the Wodeyar kings in Mysore in the 14th century. But they demolished it and tried to build it again several times. The current palace has Hindu, Muslim, Rajput, and Gothic influences. It has huge marble domes, enormous public and private halls, art galleries, and lot more. The palace gets lit up every Sunday evening with 100,000 bulbs, and also during the Dussehra festival.
Lakshmi Vilas Palace, Vadodara
It is one of the biggest palaces in the world built in 1890. It has Indian, Islamic, and European influences. The arched entrances of the palm courtyard and fountains spread over 700 acres are the highlights of Lakshmi Vilas Palace. The Darbar Hall has stunning Italian mosaic floors and stained glass windows. The palace has a great collection of terracotta, marble and bronze artefacts. Its premise even has a golf course and a zoo! It also houses a museum that has on display various art works and articles belonging to the Royal family. Lakshmi Vilas Palace is, indeed, an epitome of grandeur, which makes it a must-see.
Jai Vilas Palace, Gwalior
Located in Gwalior, which has a rich history, the Jai Vilas Palace will surely transport you back in time. It was built in 1874 by Maharaja Jayaji Rao Scindia in European style. The unique architectural marvel was designed and built by Sir Michael Filose. Its Durbar Hall is a sight to behold with gold furnishings, exquisite carpets and gigantic chandeliers.
Cooch Behar Palace, Cooch Behar
Cooch Behar Palace, also known as Victor Jubilee Palace, is noted for its elegance and grandeur. The Cooch Behar Palace has a rich history. It was built in 1887 using bricks in western classical style. In fact, it is modelled after the Buckingham Palace. The Cooch Behar Palace is a good way to explore the sophistication and splendour of West Bengal.