Speaking of international honeymoon destinations, lovers can pick from gorgeous landscapes, unruffled beaches, peaceful islands, places of adventures and so on to build up their intimacy for a happy marital life. These serene and stunning romantic destinations make a great honeymoon travel. Here is a handpicked list of some of the most sought after international honeymoon destinations.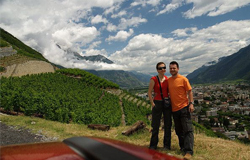 Switzerland
Switzerland is the dream place for honeymooners. This exotic and mind blowing destination with naturally beautified snow clad peaks, breathtaking landscapes, monuments, meadows, lakes, waterfalls, and what not, makes this place heavenly for couples on their honeymoon. This romantic destination with natural beauty surely fulfills the hearts of the honeymooners.
Maldives
Maldives is the perfect island on earth for honeymoon. The clear beautiful lagoons with sparkling sand, coral reefs, exotic resorts, rich marine life, apart from water sports like diving, and luxurious cruising are some of the exciting features at Maldives. Honeymooners are welcome any time, as the weather at Maldives is surprisingly stunning throughout the year.
Mauritius
Mauritius is a paradise for couples to enjoy a tropical climate in the Indian Ocean. Mauritius is known for its rich botanical garden with the giant water lilies and the unique Talipot palm, which blooms once in sixty years. There are amazing sights like colored earth of Charmarel, nature parks, diving with dolphins, ferry rides and many other incredible sights that couples can enjoy at Mauritius.
Bali Island
Like Mauritius, Bali Island is also located in the Indian Ocean enjoying the tropical climate. It is an affordable mesmerizing destination for those who enjoy rich culture and tradition and freshest Bali cuisine. Idyllic sandy beaches, cozy nights, scanty showers in the late afternoon during the wet season, and trekking to the nearest volcanic hills, makes Bali Island a perfect spot for honeymoon couples.
Langkawi
Located on the west coast of Malaysia, Langkawi is a group of 99 islands. This is known as the "jewel of Kedah" of Malaysia. The stunning sea on all directions, paddy fields, sparkling beaches, rich marine life, and water sports all make up for the best place for honeymoon couples. With no disturbance, Langkawi shares an ideal location for couples.
Seychelles
Seychelles is the surrealistic group of 115 exotic islands in the Indian Ocean. For those searching for romantic getaways, in a warm climate, Seychelles is the idealistic honeymoon destination. The stunning lagoons, shining, deserted beaches, spas, diving, snorkeling, interesting plant life, and coral watch are some remarkable aspects at Seychelles.
New Zealand
New Zealand is known for its spectacular landscapes, magnificent snow clad mountains, rivers, geysers, and idyllic serene beaches. New Zealand is a perfect place for couples enjoying adventure sports like skiing, river rafting, trekking, hiking, swimming with dolphins, and watching the enormous whales. With amazing scenery and all the exciting sports, New Zealand is the perfect spot for adventure loving honeymoon couples.
Srilanka
Srilanka is a heavenly place with rich cultural heritage. The exquisite corals, roaring waterfalls, amazing scenario makes this island spectacular spot for couples. Parks, beaches, adventure sports, amazing landscapes are in plenty in this maiden island, making it the most enjoyable honeymoon spot for lovers.
Emperor Traveline specialises in offering complete honeymoon packages. To know more, call +91 – 422 – 4 500 600 or Contact Emperor Traveline.