While travelling abroad, there are few essential things that you need to consider. Here are some tips and protective measures that make your abroad travel comfortable, safe, and sound.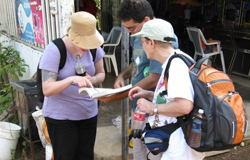 Before you start your travel
• Check the visa and other local permit letters required within the country.
• Do not forget to fill the emergency information page in your passport.
• Carry all the required documents and certificates in duplicates.
• Leave a copy of your passport, itinerary, contact numbers, other essential documents to friends or family members.
• Be thorough with the rules of stay in the foreign country. While some countries allow three months for a visiting visa, some others let tourists stay only for a few weeks.
• It is better if you extend your medical insurance to respective country you are travelling.
• Check for the embassy location. This will help you to contact them immediately in case of an emergency.
• Carry your respective medicines and prescriptions. In addition, get necessary vaccinations done and all those vaccines prescribed by the specific country.
• Know the weather conditions prevailing in that area and carry with you suitable clothing and accessories.
• Also, limit the valuables. Exempt any expensive jewelry and important documents, and extra credit cards.
• Carry with you necessary adapters required for all your electronics.
• Learn the customs and if possible certain essential sentences to converse with the local people.
After reaching your destination
• Use a bank or a credible money exchange office to get the most of your currency. Avoid using currency exchange at airports and shopping malls.
• In addition, it is better to withdraw in large amounts and secure them, than many withdrawals, as each transaction costs you money.
• Carry a map and familiarize with the local area.
• Never completely trust any local. Get help of reputed guides from the tourist department.
• Check the cab driver with that of the id-proof.
• Do not allow extra passengers to travel with you in the cab, even if recommended by the reputed tourist guide or driver.
• Beware of local thieves.
• Leave a copy of your contact details and your itinerary with the hotel.
• Maintain dress code in religious places and Islamic countries.
• Understand the eating habits. Just with a prior knowledge about the local food, you can avoid unnecessary stomach ailments.
• Always obey local laws.
• Carry your valuables and hand luggage safely. Tag the luggage with your name and contact details. If lost report immediately at the local police station.
• Use hotel safe to secure your cash and valuables.