Al Ain is a slow paced city but that does not deter it from being one of the best vacation spots in the Emirates region. It is also called the Garden city for its lush greenery and fresh air to breathe. Al Ain has a rich heritage and is well known for exhibiting its local culture. It has a plenty of diverse activities to do for the tourists.
Al Ain Zoo is a favorite among the kids. All kids enjoy watching animals, feeding them and petting them. All of this is possible in Al Ain Zoo. The zoo has all kinds of animals like giraffes, zebras, rhinoceroses, white lions of Sambona, mongoose, penguin, Arabian antelope and Oryx.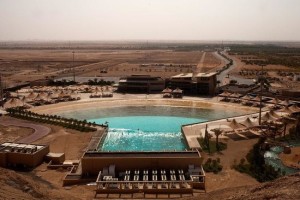 Wadi Adventure park which is built in UAE style is the longest man made white water channels in the world with three different levels of intensity. It also has a man made surfing pool. Other activities like kayaking, climbing wall, high rope course, zip line and falling swing are all available here.
Al Ain is overlooked by the rough and craggy Jebel Hafeet mountain range. Traversing the roads of this range to the summit is absolutely stunning for its panoramic views. From the top you get a beautiful view of Al Ain city. At the foot of Jebel Hafeet is a large park Green Mubazarrah. This is a perfect family picnic spot with streams, lakes, playground and hot water springs.
Hili Fun City is one of the first theme park in Gulf area. It is a perfect family entertainer which boasts of entertainment for all age groups. A family show amphitheater, play areas, roller coasters, safari car ride and so many more fun things are present to entertain you.
Al Ain Palace Museum also called as Sheikh Zayed Palace Museum is the home of Sheikh Zayed who became the first president on United Arab Emirates. The interiors in the palace are spectacular and displays the high class life style of the royals. It also has interesting collection of Bedouin jewelery, musical instruments, weapons, and a reconstruction of a traditional majlis.
Al Jahili Fort is one of the most historic places in UAE. It was erected to defend the city and protect its precious palm groves. It is located amongst beautiful gardens which is a major visitor's attraction. This fort currently houses a permanent exhibition of the work of British adventurer Sir Wilfred Thesiger.
Al Ain camel market is the place where you can have a closer look at camels. You can see camels of different types and sizes. You can also see the traders discussing the price and merits of their animals that is so much a part of Al Ain culture. This is a good opportunity for photography.
Hili Archaeological Park is present amidst the oasis of Al Ain. An important historical place where finds dating back to Bronze and Iron ages where found. It is surrounded by palm tree oasis.