The Golden Temple (or the Harmandir Sahib) in Amritsar is the 'Mecca' of Sikh community all over the world.  Considered the holiest Gurdwara, it is the most important pilgrimage site of Sikhism. If the architectural features of the Golden Temple are striking, even more unique is the 'Langar' (or Sikh community kitchen), which brings people of all religions and faiths together shedding all communal differences altogether. The main objective of this revolutionary concept started by the founder of Sikhism, Guru Nanak Dev, is to feed the poor and the needy and unite people of all walks in the name of service to God and humanity.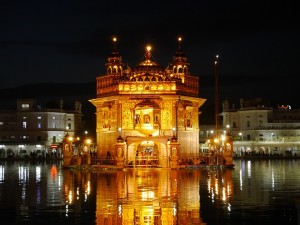 This timeless tradition of cooking and serving food to people together paves the way to community sustenance and upliftment.  Visitors to the Gurudwara actively engage in Langar activities such as cooking food, cleaning utensils and visiting the local farmer markets and cattle diary, the main suppliers to the Gurudwara for feeding around 60,000 pilgrims every day.
The volunteers mingle with the devotees to perform 'sewa' (voluntary service) as they cut and chop vegetables, peel and slice onions, roll and make 'chapathis' with their heads covered sitting with crossed legs on the floor in the Langar housed within the Golden Temple.  Take a closer look – the volunteers give in everything they can to sustain the efforts of the community kitchen and uphold the age-old sacred tradition. The scale of Langar in the Golden Temple can be beyond one's wildest imagination.
One can learn a great deal of lessons from the Golden Temple including the art of building communities with haves and have-nots working together and sharing tasks and resources with another. The volunteers are also drawn by the 'magical' power to serve humanity and the role played by farmers, traders and merchants in donating 10% of earning to the Langar (also, known as "daswandh").
If you are at the Golden Temple and miss out on serving at the Langar kitchen community, then you haven't derived the full benefit of visiting the sacred site.