The Delhi-Agra-Jaipur route (or the Golden Triangle) is one of the most popular routes in India that gives one several spectacular sights all along the way. New Delhi, the capital of India, is one of the major metropolitan cities of India, with a bustling population of 2.18 crores (Source: Wikipedia.com).  It's a unique city which is embedded within Old Delhi, once the capital of India's rich and composite culture and heritage. However, New Delhi, today, has changed radically through the years.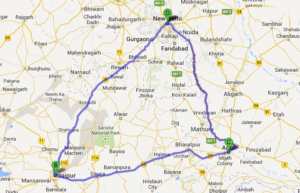 Next, venture into the ChandiniChowk Market, the busiest market of Old Delhi and Paharganj, a neighbourhood of Central Delhi, which sells almost everything you want; a paradise for budget shoppers as well.
The 17th century Red Fort, a UNESCO World Heritage Site, built by the great Mughal emperor Shahjahan, is a must­–see historical monument, in addition to its two famous entrances: the Delhi Gate and Lahori Gate. The India Gate, a war memorial dedicated to 82,000 soldiers of the undivided Indian Army who laid down their lives during the First World War in the period between 1914 and 1921, is also a major tourist attraction.
If you are in Agra, travel to the Tomb of Mirza Ghiyas-Ud-din or Ghiyas Beg or Itimad–Ud–Daulah, another mausoleum similar to the famous Taj Mahal. Another UNESCO World Heritage Site, the Itimad-Ud-Daulah is also called as 'jewel box' and 'Baby Taj'.
The Taj Mahal in Agra is no dearth of wonders. A classical example of Mughal architecture, the Taj is a colossal mausoleum complex built by Emperor Shahjahan to house the remains of his favourite wife Mumtaz Mahal. The construction work that started in 1632 took 25 years to complete with the help of 20,000 artisans.
Jaipur, popularly known as the 'pink city' of India, is the capital of the state of Rajasthan. You can find that almost every building in the walled historic city sports the colour of terracotta pink. Major attractions that you couldn't afford to miss out include the Hawa Mahal, the Observatory and the City Palace. Next in the list of must–see places is the Amber Fort, nestled in the Aravalli Hills. The fortress that is honey–coloured lends a panoramic view of the adjoining areas. Also, Sheesh Mahal in Jaipur, the fabulous glass palace in Amber Fort, is a reflection of the elegant and regal lifestyle of the Rajput Kuchwada.