The world is a perfect place with diverse destinations around every corner to rejuvenate and revive the human soul. The word holiday by itself stirs up joy i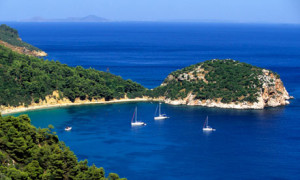 n our minds. Among all the wonderful holidays you could ever have, beach holidays are the best. There cannot be one person complaining of a perfect beach holiday. Everybody loves the sea, sand and the sun. It is the only place where you can get dirty and still have the time of your life. Talking about beach holidays, here are some amazing island destinations to motivate you on a perfect beach holiday.
Beach holidays:
There could be no other place like a beautiful island to spend your holiday. A crystal clear beach and a platter of seafood is a dream come true. Here are some of the beach destinations if you consider spending your holiday season at the seafront, snorkeling and all.
Skopelos Island, Greece:
Nothing could be more pleasant than a fine Greek holiday. Skopelos Island is a perfect place for every visitor. It's tranquil hilltop havens, clear beaches and authentic Greek cuisine is a magical combination. If you want to have a silent vacation free from buzzing tourists, then this is the ideal spot for you. This place has little visitors and it is yet the most enjoyable place for a quick vacation.
Canary Islands, Spain:
This is an amazing archipelago of seven unique islands distinguished from each other with different personalities. This place has a pleasant year-round climate ideal for year-round holidays. These are a group of volcanic islands with breathtaking panoramic views and sandy beaches. Each island has an airport for easy access. They have exotic spa retreats as part of holiday packages.
Bora Bora Island, French Polynesia:
Bora Bora, the pearl of the Pacific is indeed a dream destination to most of the travel enthusiasts. The pristine cerulean waters, the exclusive over the water bungalows hovering over the lagoons, the magnificent Mount Otemanu, the lush green volcano surrounded by beautiful islands, all of this sounds like a fairy tale. This is what Bora Bora is all about. It ranks #2 in the world's best places to visit and the best and the most expensive honeymoon destinations. How cool is that? Here are some travel tips to help you discover Bora Bora, the most beautiful island in the world. As Bora Bora is a very expensive place, the best thing to do is to visit off-season when the rates will be comparatively less than the usual seasonal rates. This way it would be more affordable for you to have a comfortable stay and enjoy all the goodness of the island without burning a hole in your pocket. The best off-season to visit is between December and March.
Andaman and Nicobar Islands, India:
These are a vast group of about 300 islands dotting the Bay of Bengal so brilliantly. This magical archipelago is one of a kind with its exotic white, sandy beaches lined with palm trees, extraordinary mangrove backwaters and lively rainforests deep inside. The islands have no bounds for entertainment with fishing, scuba diving, skiing, water-surfing, Oceanside camping and hiking as well. Not to mention it has the most wonderful grounds of coral reefs that is home to some of the exotic species of sharks and stingrays. It is indeed the most visited island in all of India.