Goubert Avenue, the 1.5km seafront which runs along the beach, often dubbed the 'Pride' of Pondicherry, houses the famous French War Memorial, a must-visit place while you are in the erstwhile French colony of Pondicherry. The French War Memorial is built in the living memory of those valiant soldiers who sacrificed their lives for their country in the World War I (1916-1919). Located closely to the Gandhi statue, the French War Memorial is surrounded by eight pillars.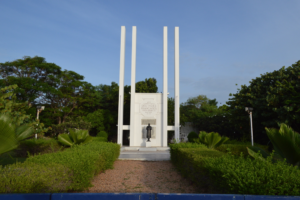 Every year on the 14th of July, the war memorial is brightly illuminated to commemorate the first French victory on Bastille Day in 1789. People from Pondicherry and other areas gather at the war memorial to pay homage to the soldiers in the line of duty.
Erected in 1937 and opened to public view on April 3, 1938, by the then Governor Crocicchia, the war memorial comprises a bronze bas-relief that represents the arrival of the Governor-General of French India Dupleix in Pondy in 1742. The statue of a soldier resting on a rifle that stands at the centre of four stark tall white columns— two on both sides is very much "life-like", carrying French inscription 'Aux combatants des Indes Francaises morts pour la Patrie, 1914 – 1918" over him.
The monument itself makes a fantastic sight, but the large sculptural metal plaque on its rear face can only be witnessed when the enclosing area is opened, as during the ceremony seen above. The monument is just a stone's throw away from the beach, and you can take a good view from a fair distance. The magnificence and importance of the war memorial have caught the attention of several filmmakers. The landmark features in several scenes of the Bollywood comedy film 'One Two Three' (2008).
Don't think the war memorial is built on a sprawling landscape, unlike most war memorials in other parts of the world – it is pretty much small in area, yet an intriguing tourist destination. Visitors are usually restricted from walking into the grounds of the war memorial.
You can take a Gorimedu bound bus, auto-rickshaw or taxi either from the Bus Stand or the Railway station, and alight at the Government Hospital (GH). This touching war memorial is about 500metres from the Bus stand.