Tiruchirappalli (also called Trichy) is the fourth largest city in the state of Tamilnadu. Trichy is located at the heart of the state on the southern banks of the river Cauvery. Though there are several attractions in and around the city that tourists can afford to spend some time, the Tiruchirapalli Rock Fort, a historic fort and temple complex raised on an ancient rock, is the most popular tourist destination, often an integral part of the tour itinerary of the city. It is raised on a 273-foot high rock. You can find two Hindu temples inside the complex: the Shiva Temple and the Uchchi Pillaiyar Koil Temple.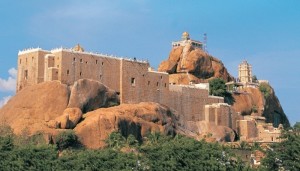 Geologically, the high rock may be over one billion years old. There are other tourist attractions within the temple complex including the famous Nayaka-era fort and the Ganesha temple of the Pallava era. The fort was the scene of bloody battles between Madurai Nayakas, who used it as a military fort, and Carnatic, Bijapur and Maratha empires. The fort also turned the tides in favour of the British in India during the Carnatic wars, fought between many Indian rulers and British and French East India Company on either side.
The Thayumanavar Temple is located in the Rockfort complex close to the base of it and was built by the great Pallava king Mahendravarman I in the 6th century AD. The main deity of the temple is Lord Shiva symbolized by the lingam and is worshiped as Thayumanavar. Mattuvar Kuzhalammai represents Shiva's consort Parvati. The presiding deity is eulogized in the "Tevaram", the Tamil Saiva canonical work compiled by the Nayanars, the tamil saint poets belonging to the 7th century.
On the eastern side is the Ucchi Pillayar koil, a Hindu temple of the 7th century, is dedicated to Lord Ganesha who was born to Lord Shiva and Parvati. It is situated on the top of Rockfort. Legend has it that Lord Ganesha ran from King Vibishana in this place, after setting up the Ranganathaswamy deity in Srirangam.
The temple houses a large-sized Ganesha and other rare deities and is host to the annual Vinayaka (Ganesha) Chathurthi festival. Devotees take great delight in listening to the classical musical concerts performed by several legendary Tamil Carnatic musicians in the temple, a tradition that has been in practise for over 70 years.
You can also witness the "Pallava Caves" constructed by the famous Pallava rulers during 580AD on the southern face of the Rockfort. One needs to climb 344 stone steps that are carved inside the rock from its entrance and over the rock near the top so as to reach the rock temple.