The Sri Aurobindo Ashram was formed in 1926 under Mirra Alfassa, popularly called by her followers as 'The Mother'. The Ashram has progressed fast and steady under her inspired guidance from a small circle to two dozen followers into a widely followed diversified spiritual community with about 1200 members that includes about 400 pupils of the Centre of Education and the hundreds of devotees who reside nearby the Ashram, though the larger ashram community boasts of more than 2000 members.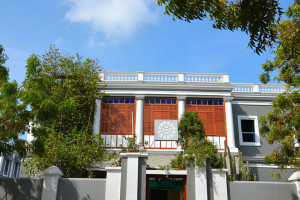 Nestled in a buzzing and bustling city of over 7, 00,000 people, the Ashram has never been a place known for tranquillity or relaxation, but a throbbing and pulsating centre of life set on the backdrop of a modern urban scene. This aspect is a reflection of Sri Aurobindo's philosophy as his steadfast obeisance to the divine forms the core of the Yoga and all Ashramites are required to contribute positively by working productively everyday for the welfare of the community.
The best part about the Ashram is the sadhana or the spiritual discipline at the mind level as there are no needless rituals, no obligatory practises, no mandatory meditations or 'by the book' practises in Yoga. Sadhaks are left free to choose whatever that suits their pace and taste of learning. But the general principle of the Sadhana remains intact: one must surrender to the Divine and an opening to the Divine Force at work so that it may turn one into a spiritually and emotionally strong being.
Travel to the eastern part of Pondicherry to visit the Ashram, where the community members live and work in harmony in beautiful old and new buildings side by side in a sprawling area. The community life is focussed on the main building of the Ashram, usually known as "the Ashram", with block after block of houses in which the Sri Aurobindo and the Mother spend major part of their lives.
At its centre, you can find a white-marble Samadhi (shrine) in a tree-shaded courtyard where the bodies rest in total peace. The members of the Ashram are provided with a healthy and decent life with excellent food, comfortable shelter, necessary clothing and essential medical care. The Ashram, managed by the Sri Aurobindo Ashram Trust, also houses a fine library for study and various other facilities for a variety of cultural pursuits.