Australia is a unique and diverse country offering lot of distinctive places for its visitors. The entire territory of Australia, right from the islands near mainland, dessert areas with wild nature, unique animal species to the urban parts of the country is overwhelmingly magnificent and fascinating. There are plenty of places to look in at Australia but the most popular ones are listed below. These places are worth dropping in at least once.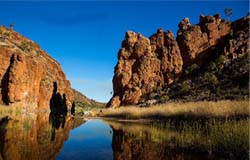 Sydney
Sydney is a great holiday destination at any time of the year. Tourist can find plenty of things to relax and unwind. The mild weather goes perfect for outdoor nature activities like cycling, beach, golf and harbour side hikes. Sydney packs a spectacular array of music and cultural festivals and exciting family entertainment. The world class museums and rich architectural heritage makes Sydney more vibrant and exciting cities on earth.
Perth
Perth – the sunniest capital city of Australia. Tourist can enjoy beach lifestyle, world class local wines, relax at natural bush land and watch eye-catching ocean sunset within 30 minutes of the city. The Botanic Garden, the biggest inner city park of the world is situated here. Located beside the Swam River, Perth offers a truly unique western Australian experience.
Tasmania
Tasmania is Australia's premier travel destination. It is a pure and rejuvenating place featuring Tasmanian World Heritage Area. About 40 per cent of the island is a protected reserve. Tourist can visit plenty of wild life sanctuary featuring Tasmanian devil, an endangered marsupial species found only in Tasmania.
Fraser Island
Fraser Island is the world's largest sand island which is otherwise called Hidden Natural Treasure. It holds an endangered species of dinos, wild dogs and unique fishes found only in Australia. The sparking beaches look like haven and are a very popular destination for tourist across the globe.
Kakadu National Park
Kakadu National Park is a unique archaeological and ethnological reserve which identifies human remains dating 40000 years. The rock carving and cave painting reflect the skills of pre historic Austrians. The national park is a habitat for wide range of endemic species of plants and animals.
Uluru
Also known as Ayers Rock, Uluru is a large natural sandstone rock formation of central Australia. The sandstone is popular for appearing to change colour at different times of a day and year, most remarkably glowing red at dawn and sunset.
Cairns
Cairns is the main entry point of Great Barrier Reef visits which is the biggest coral reef in the world. Stretching about 80 million acres along the north east Australian coast, it habitats world's rarest sea organisms. Tourist enjoys a rare opportunity to observe and see them in close.
Kangaroo Island
Kangaroo Island is the third largest island after Tasmania which is surprisingly diverse. Being surrounded by fertile land and rich waters, the island produces Australia's finest gourmet foods. Tourist can take extreme boat rides or swim with dolphins and discover an unparalleled experience like never before.
As said, Australia has got lot to offer and these places are only a part of thousands of attractions.