The KwaZulu-Natal Midlands is guaranteed to take your breath away with its beauty. Here are some of the best things to see in this majestic place.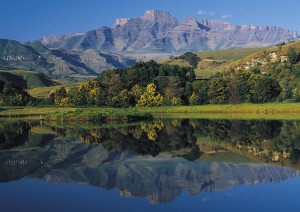 Nelson Mandela Capture Site
The Nelson Mandela Capture Site is one of South Africa's more interesting historical sites. It was unveiled in 2012 by President Jacob Zuma, and is made up of steel columns, which represent Mandela's imprisonment before being exiled to Robben Island. It is designed by artist Marco Cianfanelli. To gather more information about South Africa's political history the site also features a museum.
Treetop Canopy Tours
If you love adventure Karkloof Forest Reserve situated 10 km outside of Howick is a must visit. Over the forest canopy you can go for long slides, enjoy a mesmerising 15-metre-high waterfall and view of the beautiful Karkloof valley. The canopies are the best way to enjoy the scenery.
Howick Falls
The Howick Falls is a popular tourist attraction and are located on the Umgeni River at 95 metres high. There are several shops selling souvenirs and curios, as well as restaurants. The legend is that a giant serpent-like creature called Inkanyamba resides at the pool at the bottom of the falls.
WESSA
A visit to WESSA (The Wildlife and Environment Society of South Africa) is a bird lover's paradise. The greater reserve is home to zebra, giraffe, and a variety of antelope as well as over 270 species of birds. Most of the reserve is located in the picturesque gorge below the Howick Falls.
Zulu Mpophomeni Township Experience
The award winning The Zulu Mpophomeni Tourism Experience (ZMTE) is a non-profit organisation. You will get to know the history of the area if you tour this picturesque township.
Drakensberg
The Drakensberg Mountains is stunningly beautiful. These famous peaks is a must visit though they're not technically in the midlands. In 2000 the uKhahlamba-Drakensberg Park was named a UNESCO World Heritage Site. Many threatened species have been preserved here. This place is definitely not to be missed as there are more than 30000 San rock art images, rocky gorges, pristine steep-sided river valleys, and high-altitude grasslands.
Michaelhouse
Michaelhouse famous for its distinctive and beautiful architecture is one of South Africa's most famous schools. Situated on a secure estate in the picturesque midlands it was founded in 1896.
Nottingham Road
You will easily miss this quaint little town of Nottingham Road if you don't keep a close watch. The beautiful town has many interesting spots for visitors. If you love all things supernatural, a cosy pub at the Legendary Nottingham Road Hotel is a must visit. Locals believe that the Room no 10 in the pub is haunted by a lady 'of loose morals'. Rawdon's Hotel's Nottingham Road Brewery is also a must visit when you are in town.
Chocolate and cheese tasting
Without a bit of cheese tasting at the family-run Swissland Cheesery a visit to the midlands wouldn't be complete. Visitors can sample a range of goat's cheese, including chevin and a mild blue cheese at the cheesery. It is also a great location where you will find grazing goats on lush green lawns. You can also learn about the traditional cheese-making practice that is followed here.