An educational trip to NASA is a very enriching and rewarding experience for students of all ages! NASA continues to be the front runner amongst all organizations in their unceasing adventures is space. Many schools in India are now taking their students on educational tours to NASA to enlighten them about the tremendous developments that have been achieved in the field of outer space science and technology. Emperor Traveline, Coimbatore offers a lucrative educational tour package for students of all schools and colleges to visit NASA.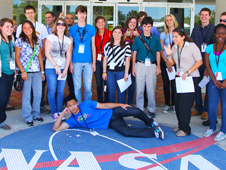 The tour programme at NASA is designed to enable students to explore all NASA areas and also interact with the numerous exhibits present there. The tour is conducted over three day. The first day involves a three hour guided tour that allows the students to take a look at the ten-story high rockets in the Rocket Garden, view IMAX space films on huge five-story screens and also see a real Gemini program capsule which is displayed there. On the second day, the students undergo a full day of hands on training on mission simulation and space exploration activities, which are usually undergone by astronauts as part of their preparation to be able to withstand the rigors of the space flight. The best part of the tour is having the opportunity to meet a member of the NASA Astronaut Corps and get to know his personal experiences while he was in outer space! The final day of the tour gives the students the unique opportunity to witness a live NASA launch such as a space shuttle launch or martian rovers launch or a launch of huge rockets that carry satellites!
Emperor Traveline offers extensive services that include, passport service, visa counseling, air plane ticketing as well as accommodation bookings as part of the NASA educational tour package. The schools and colleges can hugely benefit from this package as all essential requirements for the trip are arranged by professional agents and also at a very reasonable price. This comprehensive package will take care of everything that the students will need in order to visit NASA and enjoy their learning time there!
Contact Emperor Traveline to know more about NASA Education Tour Packages