Auli located in Uttaranchal is considered one of the best skiing destinations in India. So if you love skiing then you cannot afford to give visiting Auli a miss. It is situated in Chamoli district of the Garhwal region. One always feels closer to Nature especially in higher altitudes and nature lovers can relax here at an elevation from 2519 meters to 3050 meters above sea level. The place is naturally blessed with breathtaking views of the Himalayan mountain ranges from all angles and therefore becomes the preferred choice for professional skiers.
Every year this place attracts tourists and skiing aficionados from India and all parts of the world. While we do know Auli is a must see tourist spot, we shall take you through the place and help you with all that you wanted to know about it.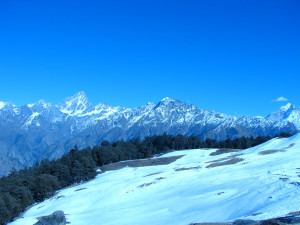 Gurso Bugyal
This is just 3 km from Auli and you shall experience the scenic beauties of the Himalayan ranges from here. This place personifies Mother Nature in her peak youth with lush green pastures during the spring time and shades of ageing notices when snow sheets clad up during winter. Gurso Bugyal has large acres of forest land that are predominantly occupied by Oak and conifer trees.
Chattrakund
This is the smartest choice one can ever make to get away from the routine fast paced life. Chattrakund gives you a sip of Nature's purity with the likes of the Chattrakund lake that holds crystal clear water. So if you are looking for some breath of freshness coupled with innermost fairy tale fantasies then Chattrakund is something you have to eagerly watch out for.
Kwani Bugyal
The Kwani Bugyal is a hot favourite among Trekkers. It is located 12 kms from Gurso Bugyal at about 3380 meters above sea level. The ideal time to visit Kwani Bugyal is June and September.
Auli Artificial Lake
One of the world's largest man made lake that has been developed to create artificial snow on the ski slopes. A wonderful place with mesmerizing locales is made to recharge every tourist with full energy.
Joshimath
Joshimath is a pilgrimage site and it holds its spiritual relevance since the 8th century. It is said that Adi Shankaracharya had established one of the four Peethas here.
Trishul peak
The Trishul Peak is one of the most preferred destinations for photographers, adventurists and Nature Lovers. It is best to catch a glimpse of this place during sunrise. It is great to ski and enjoy the scenic beauty. Trishul peak is located at an altitude of 3049 meters above sea level. It is good to visit around November and March. Trishul peak is also famous for Nanda Devi National Park, Roopkund which is a spiritual lake on the foot of the mountains. This lake is popularly called Mystery Lake as several human skeletons and horses were found. The peak is just perfect for professional skiers and trekkers.
Auli Overview
Auli is often referred as the paradise of Uttarkhand. It is encircled with snow clad peaks, enchanting ski resorts and surrounded by the Himalayan bounties. On the other side, the place has some intriguing Coniferous forests and bright apple orchards that shine like an stones during the silvery white snow miracles. One can walk through the foggy slopes to experience the lofty mountain ranges of the Nanda Devi, Mana Paravat and Kamat.
How can you reach Auli?
You can reach Auli by air by touching Dehradun which is 279 km from Auli.
You can alight at Haridwar station if you come by train. Haridwar is about 273 km from the hill station.
If you decide to come by car , then Joshimath is the nearest point. It is just 16 km from from the place. There are many state run buses that can also take you to nearby tourists spots like Rishikesh, Haridwar and Dehradun.