Known as Kovai, Coimbatore is an important commercial centre and is titled the Manchester of South India. Coimbatore enjoys a pleasant climate due to its proximity to mountain ranges. Due to the influx of immigrants from other parts of the country the population of Coimbatore is multi-cultural. The city is growing in popularity among tourists it is well connected to other parts of the state as well as India by means of air, rail, and bus.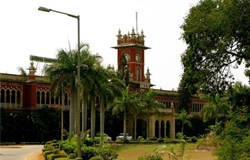 Agricultural University: The Tamil Nadu Agricultural University (TNAU) in Coimbatore is located about 5 km from the railway station, and is one of the top Agricultural Universities in South Asia. The university houses a 300-hectare rich botanical garden with a wide collection of varied species of trees and plants. An annual flower show is conducted in the month of January.
VOC Park and Zoo: Named after V. O. Chidambaram, the famous freedom fighter, this is a public park maintained by the Coimbatore Corporation. A mini zoo, children's train, models of dinosaurs, swings, and other play equipment attracts children.
Marudhamalai Temple: This hillock temple is dedicated to Lord Subramanya also known as Dandayuthapani and is located about 12 km from the railway station. It is also one of the most visited temples in Coimbatore. A large number of devotees flock this temple as it is believed that Lord Subramanya performed several miracles here.
Perur Patteswarar Temple: One of seven Kongu Sivalayams and dedicated to Lord Shiva, it is situated on the banks of river Noyyal about 7 km from Coimbatore. While the inner shrine is much older, the outer buildings were built in the 17th century by the rulers of Madurai. Of interest is that a figure of a soldier loading a musket, wearing identical clothes to that of Aurangzeb's soldiers, can be found carved on the base of a pillar near at the entrance. Two sacred trees namely the Pirava Puli (The Unborn Tamarind) and the Irava Panai (Deathless Palm) can also be found in this temple.
Siruvani Waterfalls: Siruvani waterfall and dam is located 37 km west of the city. This is the main source of water to the city. The panoramic view of the falls and dam is spellbinding.
Dhyanalinga: A private yogic temple located 30 km at the foothills of Velliangiri hills attracts tourists from all over. The Dhyanalinga is 13 feet 9 inches tall housed in a dome-like structure. These buildings have been constructed only using brick, alum, mud, lime and herbs.
Forest College Museum: One of the oldest institutions in India of its kind and is home to the famous Fischer Herbarium. The Botanical Garden cum Arboretum and the Grass Forest Museum of Natural History houses nearly 300 species of rare plants. An interesting and rare collection of dead specimen of plants and animals can be found in this museum.
Wildlife Sanctuaries: Indira Gandhi Wildlife Sanctuary and National Park also known as Anamalai Sanctuary, Mudumalai tiger reserve, and Topslip in Anamalai Hills offer a once in a lifetime experience to nature lovers.
Theme Parks: The Maharaja Theme Park, Kovai Kondattam, and Black Thunder offer a fun experience for children and parents as well.