Los Angeles, California
You must be thinking the most stylish city in the US is New York. In fact, Los Angeles, California, takes the No.1 spot, thanks to its entertainment industry. Be it street-wear or upscale couture, you will find the most stylish stuff in Los Angeles' small boutiques.
New York City, New York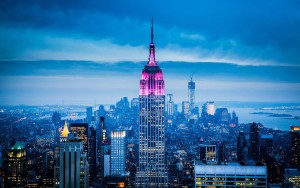 New York, as we all know, is the fashion capitol of the world. It is also one of the top tourist destinations in the world. Celebrities, models, designers, artists, business magnets… anybody who falls in the elite circle would surely visit New York. It is the most preferred shopping destination of the rich and the famous. You will also find affordable fashion here. From luxury to affordable vintage, you will find anything and everything in New York.
Singapore
The City of Light, Singapore, is the city of the rich and stylish. It is home to the well-heeled and is an expensive city. It is one of the most fashionable cities in Asia, and is a melting pot of food, retail and culture. Its endless skyscrapers, and Art Deco-style buildings, only add to its style quotient.
Madrid, Spain
People in Madrid like to leisurely walk, and that makes it the best place for people watching. It is a cosmopolitan city, which features many famous designer shops. It is also known for its historic architecture and hosts its own Fashion Week.
 Tokyo, Japan
Tokyo is undoubtedly one of world's most exciting and stylish cities. The city has given us some of the leading designers in the international fashion circuit like Issey Miyake and Yoji Yamamoto. They put Tokyo on the fashion map. It is home to world-class shopping. What makes the city unique when compared to other stylish cities in the world is its street fashion, which is truly eclectic and prominent.
Berlin
It is one of Europe's most stylish cities. Around 800 fashion designers call Berlin home! Isn't that impressive! Berlin is dominated by creative people – artists of all types. You will find the most interesting shops and inspirational takes on fashion here.
Italy
Italy has many stylish city-states to boast like Florence, Milan, and of course Rome. Some of the world famous designers like Roberto Cavalli, Donatella Versace and Moschino are all from Italy. It is known for effortless glamour. Not just fashion, Italy is known for its architectural monuments and hotels, too.
Paris
The list of stylish cities is never complete without a mention of
Paris. It is synonymous with style, fashion and glamour. What is unique about Paris is its effortless style. The elegance of Paris is reflected in the beautiful architecture of the city. Parisian women are also known for their elegant and chic looks.
London
London is known as the "father of haute couture". Everywhere you go in London it's like a fashion show on the streets! Some of the fashion biggies like Alexander McQueen, Stella McCartney, and Christopher Kane are from London. It is a great city for shopping and street style.